.
Raise Your Pots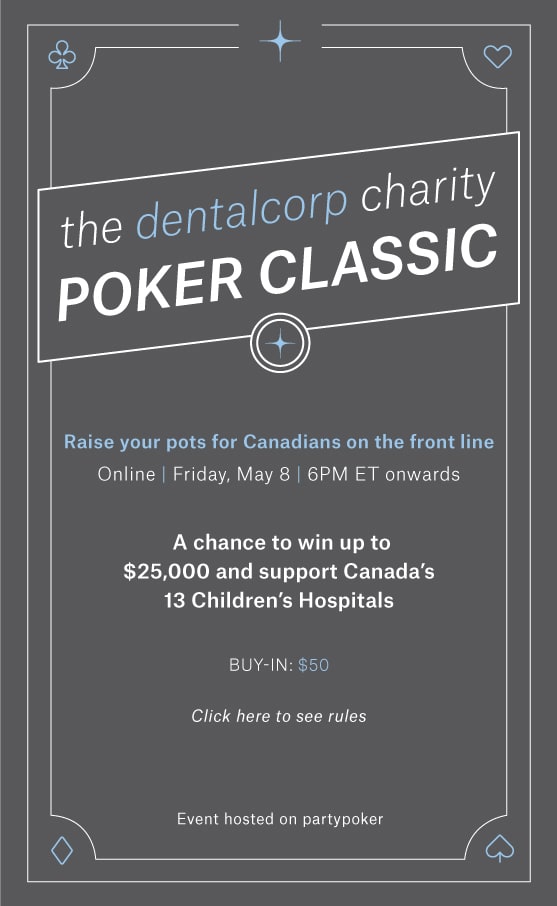 Join us and 'raise your pots' for Canadians on the front line at our online charity poker tournament on May 8. Play for the chance to win up to $25,000 and the opportunity to support 13 Canadian Children's Hospitals. This tournament is open to all Canadians, so please share with your friends and family and bring your best poker face!
---
FREQUENTLY ASKED QUESTIONS
Is it too late to sign up?
No! Registration is open until 7:30pm ET, however if you don't already have a partypoker account it can sometimes take a while to verify your details. The platform mentions it may take up to 48 hours, however, in most cases, it doesn't take more than a few hours. We recommend signing up for the account as soon as possible to avoid missing out. Click here to download and setup your account.
I'm having trouble registering and finding the tournament. What should I do?
Click here for a how-to video that outlines the entire registration process. You can also join the dedicated Facebook group and ask questions. 
What happens if I can't join right at 6pm ET?
Not to worry! You'll have 90 minutes to join the tournament once it starts. You will be able to join until 7:30pm ET; however, be sure to register for the tournament ahead of time to avoid any technical issues.
Are all payment types accepted on partypoker?
Unfortunately, certain Canadian banks do not allow debit/credit card transactions on gambling websites. If your credit card is declined, there are a number of other payment methods available. 
What if I don't know how to play poker?
That's ok, most of us don't! Click here to watch a video that outlines essential poker rules.
What happens if I don't want to play in the tournament, but I want to watch?
Click here to access a step-by-step guide on how to access the tournament as a spectator.
Where does the $50 go?
All proceeds are put towards the winning pot and children's hospitals. dentalcorp is absorbing the full cost to run and administer the tournament.
---
.PRIZE POT

First Place Prize: The winner will receive 50% of the prize pot, up to a maximum of $25,000. 25% of the remaining pot will be donated to a Canadian hospital of the winner's choice. The remaining 75% will be split evenly across the 13 Canadian Children's Hospitals.

Second Place Prize: Second place will have $1,000 donated in their name to a Canadian hospital of their choice.
---
.Registration, Rules Overview and Support.

Join the dentalcorp Charity Poker Classic Facebook group for any questions related to the platform (partypoker) or if you are experiencing technical account related issues. Someone will answer your inquiries within 24 hours. 
Click here for a step-by-step video on how to create your partypoker account and register for the tournament.

For any tournament related questions, please contact charitypoker@dentalcorp.ca.