We're kicking off our Partner Spotlight series with dentalcorp's first two Partners, Drs. Larry Podolsky and David Mady, who coincidentally joined dentalcorp on the same day in January 2012. Both have since played a pivotal role in our network's foundation, growth and continued success.
---
Following in the footsteps of his older brother, Podolsky knew from an early age that he was destined for a career in dentistry. Upon graduating from Witwatersrand University's dental program in 1981, Podolsky practiced dentistry in Johannesburg, South Africa for seven years before immigrating to Canada in 1988. Three years later, Podolsky established his first dental practice, Dentistry on Green Lane, in Thornhill, Ontario.
Like Podolsky, pursuing dentistry was a natural progression for Mady, whose father was an accomplished dentist. After earning a bachelor's degree in economics, Mady obtained his Doctor of Dental Surgery (DDS) degree from the University of Michigan School of Dentistry in 1993. Soon after graduation, he opened his first dental practice, Madison Dental, in Windsor, Ontario. Fifteen years later, he opened his second practice, Alexis Dental, in Belle River, Ontario.

Despite their success, Podolsky and Mady were ready to embark on a new chapter in their respective careers. Both dentists were looking for a way to take a step back from running their practices when they discovered an opportunity to pursue an uncharted path that had the potential to take their businesses to the next level.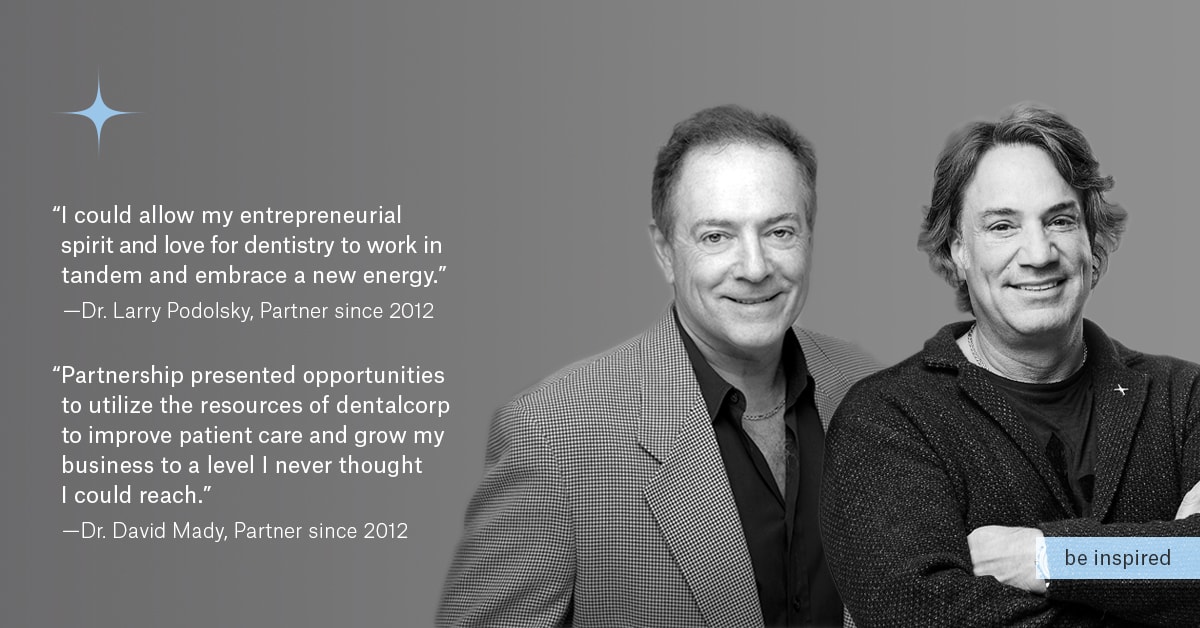 A leap of faith
In 2012, both dentists were approached individually by dentalcorp founder & CEO, Graham Rosenberg, with a promising partnership opportunity. After careful consideration, Podolsky and Mady ultimately decided to be pioneers in the early stages of revolutionizing the business of dentistry in Canada – a move neither would regret.

Podolsky recalls, "dentalcorp came to fruition at a perfect time for me and I knew very early on that this was the opportunity I was looking for. I was always aware of the dental world evolving and felt I would welcome a change in direction should an opportunity present itself. I decided to take a chance on a start-up which almost seemed too good to be true. I could allow my entrepreneurial spirit and love for dentistry to work in tandem and embrace a new energy. While there was some initial hesitation, it has turned out to be an incredible journey that I'm extremely grateful for. dentalcorp has delivered on its promises and more." 

Mady further expands, "As a businessman in addition to a dentist, I immediately recognized that the future they were proposing for me was a real two-way street and I loved their business plan because it could only win. I took a chance on them and they took a chance on me. Because of this, I made the deal on the evening of our first meeting and never looked back."

No small feat
As experienced dentists and practice owners themselves, Podolsky and Mady know all too well the challenges that today's dentists face in running their own businesses. The financial pressures are particularly heavy for new dentists. Podolsky explains, "The newly qualified dentist has many choices with respect to entering the business side of dentistry – and none of them are easy. It's very expensive to open a practice and there are countless risks involved. A new dentist is then immediately faced with a lot of debt – and that alone is daunting. Once a dentist has acquired an office, it takes a lot of experience to learn how to run a business, how to manage and hire the right staff, and how to train and inspire the staff to create the right environment so that the business can be successful. And I haven't even touched on the delivery of dentistry or the fierce competition in the market."

Mady further notes the difficulties in keeping abreast of compliance topics and industry requirements, in addition to the administrative headaches of managing payroll, ordering clinic supplies, etc. Both dentists believe that the demands of running a business ultimately detract from the time and focus spent on quality patient care – not to mention professional development. For many dentists who run a practice, it's a tightrope walk in balancing the needs of the business with their own needs as clinicians.
A partner in growth
Since partnering with dentalcorp, Podolsky and Mady have found many of the pressures associated with running a business have been alleviated. Podolsky states, "As an owner, I felt an immediate relief of certain financial pressures. Partnership has supported me in many ways, including keeping me at the forefront of technology and education that I felt was necessary to be the best dentist I could be. Through partnership, I have ample opportunities to network with—and learn from—many industry-leading specialists. It has been a huge benefit to me professionally."

Mady adds, "The partnership has allowed me to continue running my practice as I always have. It has also presented opportunities to utilize the resources of dentalcorp to improve patient care and grow my businesses to a level I never thought I could reach. I have been able to wash my hands clean of a lot of the administrative and clinical stress, without losing any of my autonomy. Additionally, my staff receives access to the training and resources they need to stay ahead of the curve in Canada."

Since partnering with dentalcorp in 2012, both dentists have expanded their practice footprints exponentially. Podolsky has evolved from being a co-partner in a single practice, to adding four associates at this location and further acquiring two additional practices with dentalcorp. Mady has since grown his two practices with eight additional acquisitions, ultimately consolidating several existing practices. He currently operates six locations with over 15 associate dentists working under him.

With over 60 years of combined experience, their passion for dentistry remains strong to this day. Podolsky notes, "I take great pride in my work and being able to make a difference in people's lives by providing them with a cosmetic outcome that exceeds their expectations." Mady adds, "I love the satisfaction of providing individuals with a service that they absolutely can't provide for themselves in a comfortable and caring environment. Planting seeds in my patients' minds about what I am capable of accomplishing for them and their oral health is what still excites me every day of my life."