In this month's Partner Spotlight, we caught up with Dr. Glenn Chan to discuss excellence in patient care, how Partnership has changed his clinical practice and his advice for future dentists. A seasoned clinician with nearly 25 years of experience, Dr. Chan is a Partner at Harker, Chan & Associates in Southeast Calgary.
---
Tell us a little bit about your background and how you got into dentistry.
I did all my schooling in Calgary up to and including my first degree, Cellular and Molecular Biology at the University of Calgary (U of C). In my final undergrad year, I decided to pursue dentistry. I'd played piano my entire life and always enjoyed working with my hands. I did not want an office job per se, so it was a natural progression to find a career in sciences where I could control my environment both from a business and clinical perspective.  

What aspects of dentistry do you find most rewarding and most challenging?
The most rewarding and challenging aspects of dentistry are both the same – helping others and seeing change. At the end of the day, if we have made things just a little bit better, I feel we have succeeded. The issue is there are only so many hours in the day and we can only reach so many people. We have a great message that we want to spread to others: we can help them with their oral health in an empowering way. We want to reach as many people as we can and enrich their lives through excellent service and exceptional dentistry.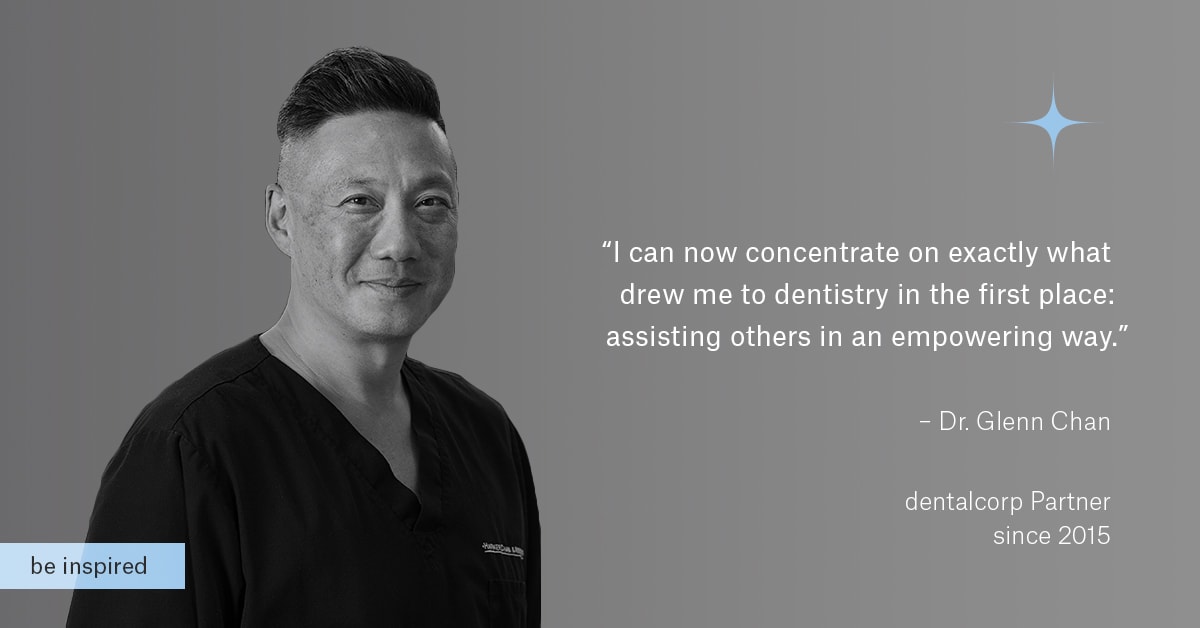 What does excellence in patient care mean to you?
Excellence means going above and beyond. I want to know that each day I inspire my team and lead by example. Every day, I want to know that patients leave happy, and if they don't, I want to correct that. We strive for excellence not perfection - we are humans after all. However, we've seen many decades of dentistry and service and we're confident we can make any situation better. I need to know my team is comprised of people that love people and that patients from all walks of life are treated equally with the utmost care. Excellence in patient care means taking care of all the small details, so the experience goes from good to exceptional.

How has Partnership with dentalcorp changed the way you practice?
Partnering with dentalcorp has absolutely allowed me to become a better practitioner. All my interactions with landlords, accountants, lawyers, insurance agents, and supply companies – they've all disappeared. What has remained is a purified, absolute relationship with our incredible team and the wonderful patients we serve. I don't need to run back to the computer in-between patients to handle minutiae. I can now concentrate on exactly what drew me to dentistry in the first place: assisting others in an empowering way.

What advice do you have for emerging dentists?
The entire time you are in dental school, you are taught clinical skills while receiving limited to no direction on the business side. And yet, when you are thrown into dentistry, you are responsible for all of it. Unlike in medicine where one doctor refers you for an x-ray, it is then taken by another person and read by another, and so on and so forth, in dentistry, you greet, diagnose, operate on and follow-up with patients – all while dealing with the practice's finances. There are a lot of moving parts and you need to have someone skilled and experienced to mentor you. My most important advice would be to find a great mentor and listen to what they have to say.