In this month's Partner Spotlight, we sat down with Dr. John McGaw to discuss his road to becoming a dentist and partner in an ever-changing field.
For the past 27 years, Dr. McGaw has practiced general dentistry and sedation as Principal dentist at Driftwood Dental in Courtenay, BC.
---
Tell us a little bit about your background and how you got into dentistry.
I've always been interested in the medical field.  At 18, I began working as an ambulance attendant in rural Alberta.  Something about a busy schedule and the ability to help others and continuously learn both intrigued and satisfied me.  I went on to become a Paramedic and, throughout my 12-year career, I had the opportunity to save lives and bring life into the world, attend air medevacs in remote areas, coordinate large scale disasters and many other rewarding experiences too numerous to mention.
After several years of intense drama, I began looking for options that better suited my growing family and our future.  Knowing that dentistry, through sedation, would complement my medical skills, I decided to pursue a new career in this field. On the very day of my graduation from the University of Alberta in 1992, our family packed up and moved to Vancouver Island to start my career as Principal dentist at Driftwood Dental.  It was both an exciting and daunting time, and I was grateful for the fantastic team already in place who would help me hone my skills.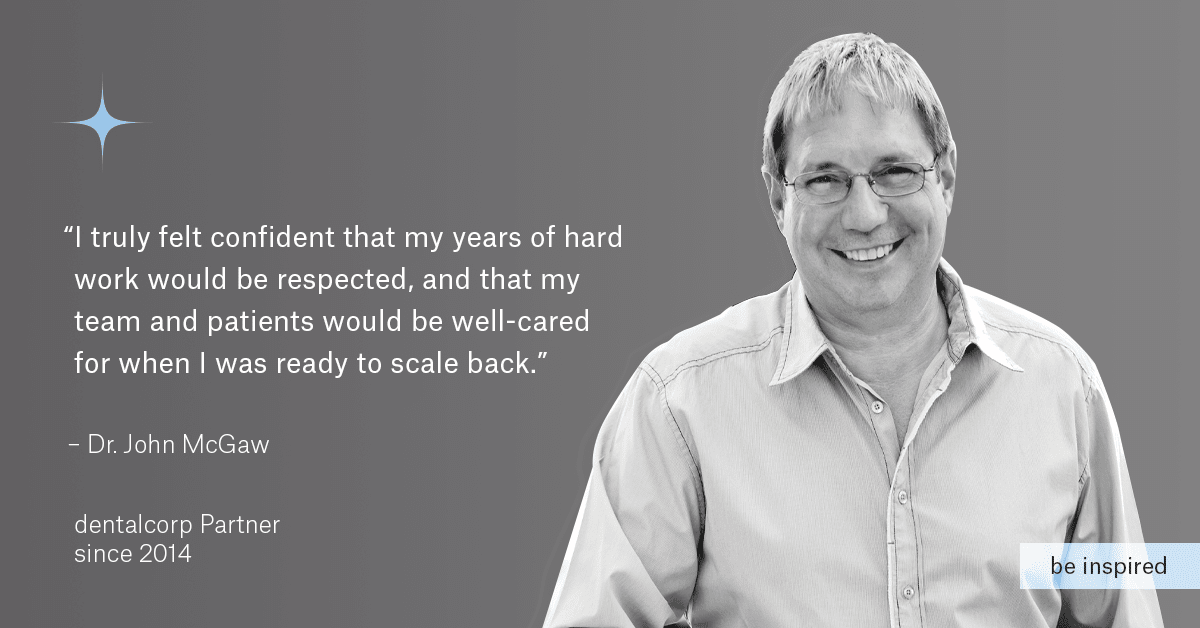 Can you tell us a little bit about your journey in becoming a Partner? What made you want to want to take a chance on dentalcorp?
I was looking ahead for a future exit strategy for myself and an opportunity to keep my team in place. I didn't believe there were many—if any—new grads who would be willing to take a chance on buying a large practice, so I began looking at different options.  We dentists become very attached to our patients and teams, so it was important to me that I found the right fit for everyone.  I first met with dentalcorp at the Pacific Dental Conference in 2014, and I knew then that I had found my successor. 
The philosophy of dentalcorp has allowed me to maintain my individuality, access its support network when needed, and continue to run my practice as I had been doing for the previous 20+ years. I truly felt confident that my years of hard work would be respected, and that my team and patients would be well-cared for when I was ready to scale back.
Now that you're a Partner, what do you think is the biggest misconception about dentalcorp?  
That dentalcorp will take over the day-to-day management of your team, make unrealistic demands and dictate production objectives. This couldn't be further from the truth. I am fully in control of all clinical decision-making for my practice. That said, dentalcorp is there to provide necessary resources and support if I want it.
What about dentistry do you find most rewarding and most challenging?
Funny enough, they are both the same – sedation in dentistry.  For the past five years, we've operated a fully accredited general anesthesia facility, but previously, we could only offer moderate IV sedation.  There is an art to providing any type of sedation and you can't let your guard down.  Even with a support team in place, I'm still acutely aware of how my patient is responding to the treatment and the sedation.  Patients are so grateful, and that in itself is rewarding.
How has the dental industry changed since you started practicing nearly three decades ago?
The technology has certainly advanced to enable practitioners to provide a variety of services previously unavailable.  Digital scanners and x-rays, the ability to do in-house crowns, orthodontics, and microscopes for RCT's really opened up avenues to advance and satisfy dentists looking to expand their capabilities and, ultimately, their patient base.  The patient experience for me has always remained the same – treat and advise patients of their needs as if it were your own needs.  Do unto others still holds true.
What advice do you have for dentists just entering the workforce?
When you want the best, it shows, and it also attracts people toward you.  Have the confidence to plan ideal dentistry for your patients and make your diagnoses relatable. Provide your team with the best education, equipment, and technology you can afford, and have fun.  Lastly, never miss the opportunity to thank your team and your patients.