In this month's Partner Spotlight, we sat down with Drs. Lyle Pidzarko and Vern Beckie, to discuss the evolution of dentistry, the challenges of running a business, and how to remain patient-centered in a busy and growing practice.
With over 60 years of combined experience, Lyle and Vern are Principal dentists at three practices in Burnaby, BC: Ocean Dental, Northgate Dental Centre and Marine Dental Centre.
---
Tell us a little bit about your backgrounds and how you got into dentistry. 
Lyle: I grew up in Alberta and completed my dental degree at the University of Alberta in Edmonton.  Dentistry involves all of what I was looking for: working with people directly, helping people with their health, working with my hands, having my own small business and one in which I have the ability to control the direction of my future.
Vern: As a child, I had an excellent and progressive dentist with a modern and welcoming office. Even as a child, I remember him asking me what I wanted to do with a primary tooth that was bothering me. His approach was very impressive to me. To this day, I aspire to bring the same humanity to dental treatment of all of my patients. I have always loved the challenge of fixing broken things. I love precision tools and gadgets. Dentistry presents a bounty of broken things that can be repaired or upgraded with interesting high precision tools.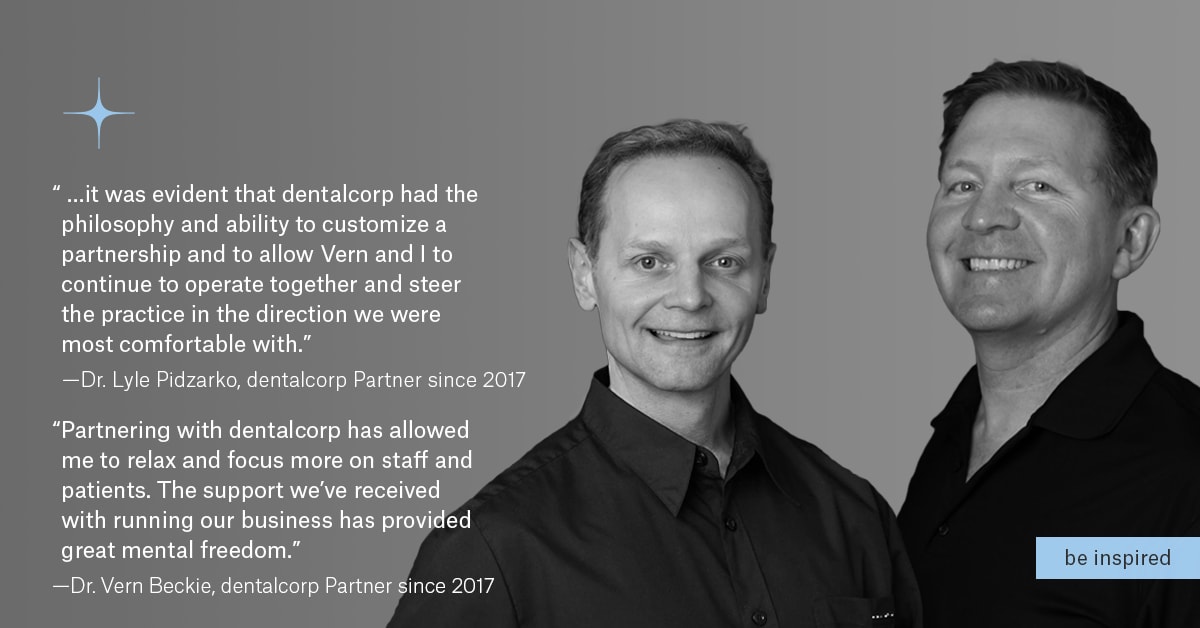 How has the dental industry changed since you started practicing?
Lyle: There has been phenomenal growth in technology over that time. The development of digital scanning and impressioning has allowed for better quality transfer of information to labs to come to the forefront.  We can design at chairside for restorations and even pre-plan implant and bone grafting surgeries to make them more exacting, and to reduce surgical times for patients.  It is an exciting time to be in dentistry!
Vern: Dentistry has changed in some ways a lot, and in other ways, not much at all. The human body and its anatomy have not changed. We have, however, seen a pronounced increase in tooth decay in our area in the last few years despite our very prevention-oriented focus in the dental profession. 
As Lyle noted, technological changes have been massive. In the 80s, I was packing amalgam into preparations coated with the familiar smelling Copalite resin. I could never have imagined having a cone beam CT scanner in my office. Drawing blood from a patient's arm to generate PRP to use in a surgical site to grow more bone for implants was previously unimaginable.

What excites you the most about practicing dentistry?
Vern: The ability to restore a damaged mouth to look and feel like a beautiful smile, in a way that is comfortable for a patient, is often a monumental task. Upon completion, the satisfaction is immense for me.
Lyle: I am continually intrigued and amazed at the rapid growth of technology in dentistry, from materials to CBCT, to digital scanning and planning.  It keeps dentistry interesting and challenges us practitioners to ensure that we keep up with continuing education.  It also allows us to offer better, more comprehensive solutions to patients.

What are the biggest challenges clinicians face when running a business?
Lyle: For many, human resource management is the most challenging aspect.  There is a shortage of quality trained staff in all areas of the dental office. This is becoming a barrier to business growth and development and is causing even greater competition between offices for limited personnel.  
Vern: The challenges of running a dental business are many. Our training in dental school for the business side of dentistry was minimal. I agree with Lyle. I would say of all the aspects of the business, finding and keeping good staff members is the biggest challenge. Nothing has a greater impact on a dental practice than the staff.

In a busy and growing practice, how do you keep your teams motivated to maintain a patient-centric approach?
Lyle: We have always tried to create a culture that focuses on what is in the patient's best interest, and to train staff to adopt this approach.  We endeavor to deliver a great experience with each interaction and for the patient to understand the value of high-quality dentistry.  This drives each decision we make, and we have derived standards in our practice that follow this.  Our team holds each other accountable to this.
Vern: Most team members are motivated by the desire to help people. When the team is clear that the best needs of the patient drive all decisions, then they are motivated to come to work every day. Team members want to feel comfortable bringing their friends and family members to their own office. In a sense, a successful patient-centered practice is like a big happy family.

Can you tell us a little bit about your journey in becoming Partners? What made you want to want to take a chance on dentalcorp?
Vern: At the time we decided to partner, it was clear to me that the future of dentistry was becoming more complex. Insurance benefits were decreasing, and scrutiny of the insurance companies increasing. There were high costs involved in setting up advanced digital dental clinics, and well as emerging social media that was influencing patient behavior.
I believe that in this environment, a team approach is more sustainable long term. All of my exposures to dentalcorp have showed me that they understand the challenges of today's dental environment. Any partner I have spoken to seems to be truly happy with their decision to join with dentalcorp. I have not been disappointed. dentalcorp makes it easier for dentists to do good dentistry.
Lyle: Vern and I have a large practice with several partners and associates. We discussed transitions with associates and differing timeframes on years of practice.  When looking at the long-term plan for the time of retirement, and how the pieces would fit together, partnering with a group that had extensive resources and expertise seemed the best choice.  This allowed for the dentists to plan their own futures within the practice.  When we discussed a single sale transition with potential partners, it was evident that dentalcorp had the philosophy and ability to customize a partnership and to allow Vern and I to continue to operate together and steer the practice in the direction we were most comfortable with. I have been asked several times over the past couple of years if I would do it again and the answer is yes, definitely.

How has Partnership affected the way you practice?
Vern: Partnering with dentalcorp has allowed me to relax and focus more on staff and patients. The support we've received with running our business has provided great mental freedom. The support and camaraderie among dentalcorp partners and support staff is truly an amazing benefit. 
Lyle: Partnership with dentalcorp has allowed for a lot of the challenges of running a business and human resource management to be lifted.  There is now a team of people to help with solutions in these areas, allowing me to focus on patient care and business development.

What advice do you have for emerging dentists?
Lyle: High quality, comprehensive continuing education is key to developing your skillset to allow you to develop complete treatment plans, and to deliver solutions to patients who require more extensive dentistry.  Education is expensive but lacking these key skills and understandings is even more expensive. Doing complete, comprehensive dentistry is much more fun and fulfilling.
Vern: I recommend getting involved in study groups or local dental societies. No one understands what it is like to be a dentist quite like another dentist. You will need the companionship and support at many times throughout your career. If you can be of support to other dentists, it will also be very satisfying for you.
Aggressively pursue continuing education opportunities. Strive for constant improvement. Do better by being better. Be careful of who you treat as patients, and it will be a long-term relationship. Like all doctor-patient dynamics, there are some patients that may not be compatible with you or your office. Be cautious in treating them or refer them to someone more appropriate.
Also, maintain a good rapport with your local specialists. Don't only send them the most difficult cases. You will need their help at many stages of your career.