In this month's Partner Spotlight, we caught up with Dr. Cindy Neufeld to discuss her journey to partnership, the challenges and opportunities she's faced as a woman in dentistry, and her advice for new dentists looking to move ahead in their careers.

With over 20 years of experience in family practice, Dr. Neufeld currently practices as Principal Dentist at Apple Dental Care in Edmonton, Alberta.
---
Can you tell us a little bit about your background and how you got into dentistry?
I really enjoy science and working with people, and dentistry is a great combination of the two. I was fortunate to have my family dentist Dr. Kent Gibb as my mentor, who later became a teacher of mine in dental school. He was an awesome dentist, who had a balanced life and a great sense of humour. He ultimately inspired me to pursue dentistry.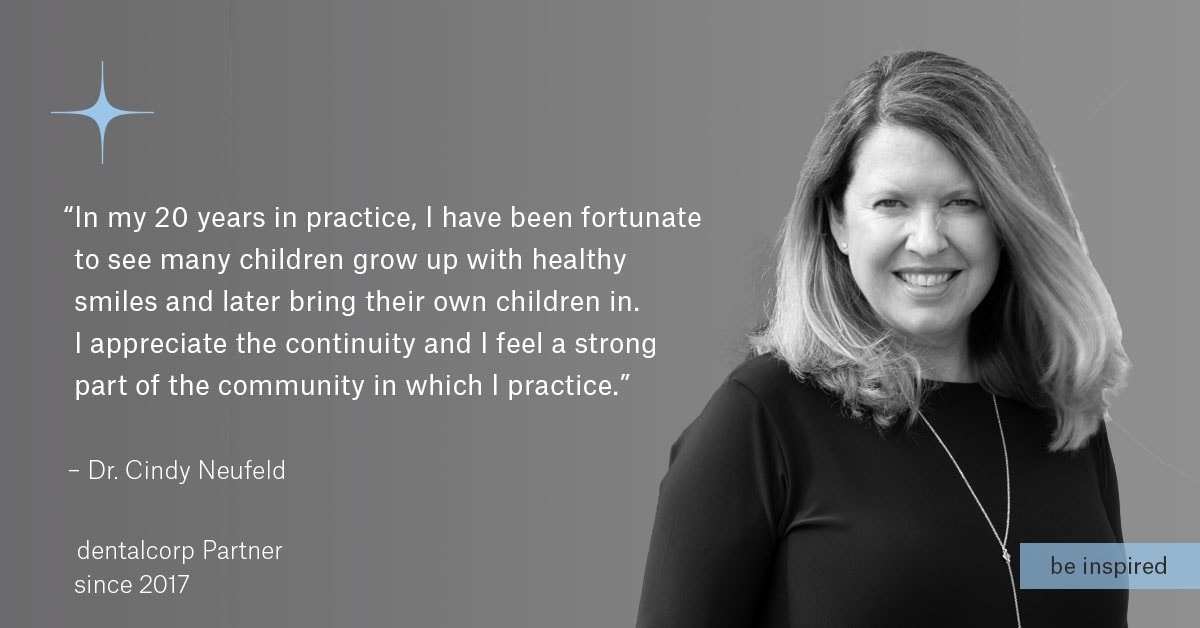 Can you tell us a little bit about your journey in becoming a Partner? What made you want to want to take a chance on dentalcorp?
I saw that someone had randomly left a note on my desk with a dentalcorp team member's phone number on it. Ordinarily, I would not have called back. In this case, I did.  He was wondering if we could meet and I told him that I only had a small window available at 6 o'clock in the morning. We met at Starbucks – I told him that he must have had the wrong doc as I was still enjoying my practice and not looking to retire.  He let me know that they were looking to partner with me and that I could continue practicing. Dr. Randy Crowell was the only dentalcorp partner I knew of at the time and he had told me that he had a very positive experience. And the rest fell nicely into place.

What do you find most rewarding about practicing dentistry?
I really enjoy family practice and providing care to multiple generations of families. In my 20 years in practice, I have been fortunate to see many children grow up with healthy smiles and later bring their own children in.  I appreciate the continuity and I feel a strong part of the community in which I practice.
What are the some of the challenges you've faced as a woman in dentistry?
Dentistry is fabulous profession for women.  I have been able to set hours that work around family life. However, for women who own their own practices, it is difficult in that you do not get maternity leave.  Most of my male colleagues could not fathom taking 16 weeks away from their practices, and most moms cannot imagine only taking 16 weeks. I am very grateful that my husband has been very supportive in scaling back his schedule to help as well.
What does excellence in patient care mean to you?
Excellence in dentistry is about a commitment to always looking to have the best outcomes for our patients.  It is about continued learning, integrating new technology, and nurturing a team that shares your vision.
What advice do you have for new dentists looking to move ahead in their careers?
My advice for new dentists looking to move ahead in their careers is to find someone who is in the position that you would like to be in and ask them to be your mentor.  I have many mentors that were all committed to my success. The only thing I had to do was know when to listen.