In this month's Partner Spotlight, we sat down with Dr. Rex Hawthorne to discuss his road to success, the obstacles he's faced along the way, and his newfound perspective on life.

A seasoned clinician with over two decades of experience, Dr. Hawthorne currently practices as Principal Dentist at Cornerstone Dental in Vernon, BC.
---
Determined to pursue a career in medicine, dentistry was never on Rex Hawthorne's radar growing up. His attention later turned to dentistry when he met a dental hygienist in his third year of undergraduate studies at UBC. By this point, he had become disenchanted with his future in medicine and was drawn to the increased level of autonomy afforded by the dental industry. In his final year, he changed course and decided to pursue dentistry. Shortly after graduation from UBC's dental school in 1995, Rex established Cornerstone Dental with his partner Dr. Brian Clark.
A decade into his thriving career, Hawthorne suffered a life-altering accident. As an active outdoorsman, Hawthorne regularly biked the difficult trails of Silver Star Mountain. While mountain biking in the summer of 2005, he sustained a devastating spinal cord injury that would leave him permanently in a wheelchair.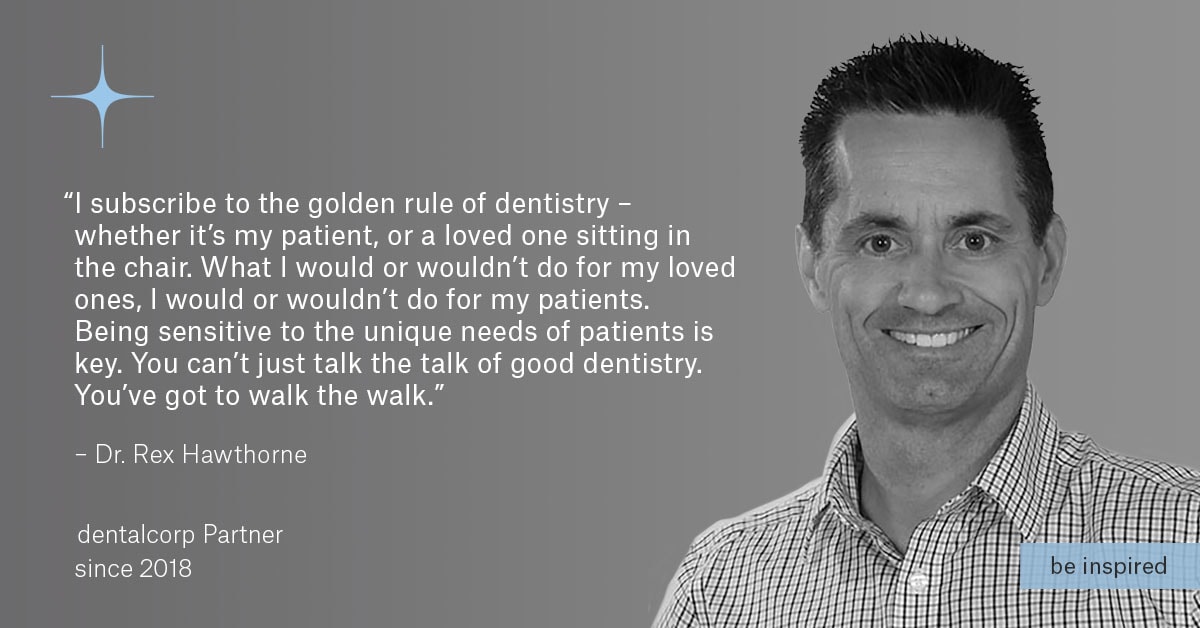 Despite his challenging new circumstances, Hawthorne says he hasn't had to adjust to much professionally. Fortunately, the new facility they built five years earlier was wheelchair accessible with large operatories.
"To be honest, it hasn't really impacted my career outside of the obvious of not being on my feet. My ergonomics are better than they have ever been," he says. "At the end of the day, I don't know that I would be in any different a position than if I hadn't hurt myself. Whether I'm in a wheelchair or an able-bodied individual, I don't know that I would have done anything differently. I still look after my patients the same way. I still view dentistry and patient care the same…it really hasn't changed."

After experiencing a further shoulder injury while wakeboarding at the 2016 World Championships, Hawthorne realized that although he had planned to practice dentistry for the long-term, it may not be a reality. Prompted by his desire to protect his family in the event he was unable to work, he began researching Dental Service Organizations (DSOs) that would take his equity in Cornerstone Dental off the table. After looking at a number of DSO models, he ultimately decided to partner with dentalcorp.

"I ended up partnering with dentalcorp because I liked what I heard," says Hawthorne. "When talking with other dentalcorp Partners, I liked the fact that I would have the autonomy to run my practice the way I had always been running it. dentalcorp lets dentists do the dentistry the way they have always done. We still have that control, we're still in the driver seat."

Partnership has proved beneficial not only for him but also for his team members, some of whom have been employed at Cornerstone Dental for over 25 years.

"My staff are my family," says Hawthorne. "They have seen me through a lot of obstacles in my life and it is genuinely important to me that they are looked after, too. In a situation where you sell privately, there really are no guarantees that they'll be looked after. When partnering with dentalcorp, I knew they would all be protected. I don't think I could have done any better for my staff."

Hawthorne takes a similar familial approach to patient care.

"I subscribe to the golden rule of dentistry – whether it's my patient, or a loved one sitting in the chair. What I would or wouldn't do for my loved ones, I would or wouldn't do for my patients," he says. "Being sensitive to the unique needs of patients is key. You can't just talk the talk of good dentistry. You've got to walk the walk."

When asked what he finds most rewarding about practicing dentistry, he doesn't hesitate to answer. "That is easy. It's the relationships that I have developed over the years with my patients. They have seen me through a lot – most of them stuck by me after my accident. I have kids that I treated years ago who are now parents that bring their kids to me. I'm seeing three generations of families in my office and that's really very special." 

Hawthorne's emphasis on nurturing meaningful relationships extends beyond just patients and staff.

"Getting through adversity and challenges in life sometimes requires the support of other people. It's a lot easier to deal with hard stuff when you've got the support of friends and family," says Hawthorne. "And those aren't just relationships you can cultivate out of the blue, they're the ones you have to work on throughout your entire life."

Hawthorne credits taking life one day at a time for overcoming adversity.

"After I broke my back, I didn't know that I would ever practice again. I didn't know that I would ever be a good parent again. I didn't know that I could carry on. But by assembling a bunch of small, reasonable goals, each one was one step towards a big goal that, at the time, seemed impossible," he says.

"I realized that getting from point A to point B was nothing more than a series of steps. For me, I had an idea of where I wanted to be, I didn't know if I would ever get there, but I basically broke it down into a series of small events. And that's what helped me get through."

Despite the hardship he has endured, Hawthorne maintains a positive outlook on life.

"I live my life in a wheelchair. I'm not happy about that," he says. "But the reality is that, in every single day of life, there is happiness to be found. Sometimes you just have to look for it."

While many may view Hawthorne as an inspiration, he doesn't see himself that way.

"I don't think of myself as special, because we all face adversity in our lives; we've all had challenges that we've had to deal with and overcome," he says. "Really, what I've done is no different than what lots of people have done and are doing right now. For me, a big part of how my story played out is that I've always tried to look at things from a glass half-full perspective and focus on the positive."