In this month's Partner Spotlight, we caught up with Dr. Roch St-Aubin to discuss his road to becoming a dentalcorp Partner, his work in the seniors community, and the importance of increasing access to care in dentistry.

With over 30 years of experience in dentistry, he currently practices alongside his three Partners at Sudbury Dental Group in Sudbury, ON.
---
 
Tell us a little bit about your background and how you got into dentistry.

After graduating from Western University in 1986, I joined my father and his Partners in a 12-operatory office in downtown Sudbury. Growing up with a father who was a dentist, my decision to pursue dentistry was only natural. It was a tremendous privilege to have worked with him as both a mentor and a friend. About 20 years ago, my Partners and I built Sudbury Dental, a beautiful 18-operatory facility complete with a General Anesthesia suite and an in-house lab technician. The real heart of our practice, however, is our incredible team. All of our team members are dedicated, hardworking and wonderful to spend time with. We feel very lucky to have them.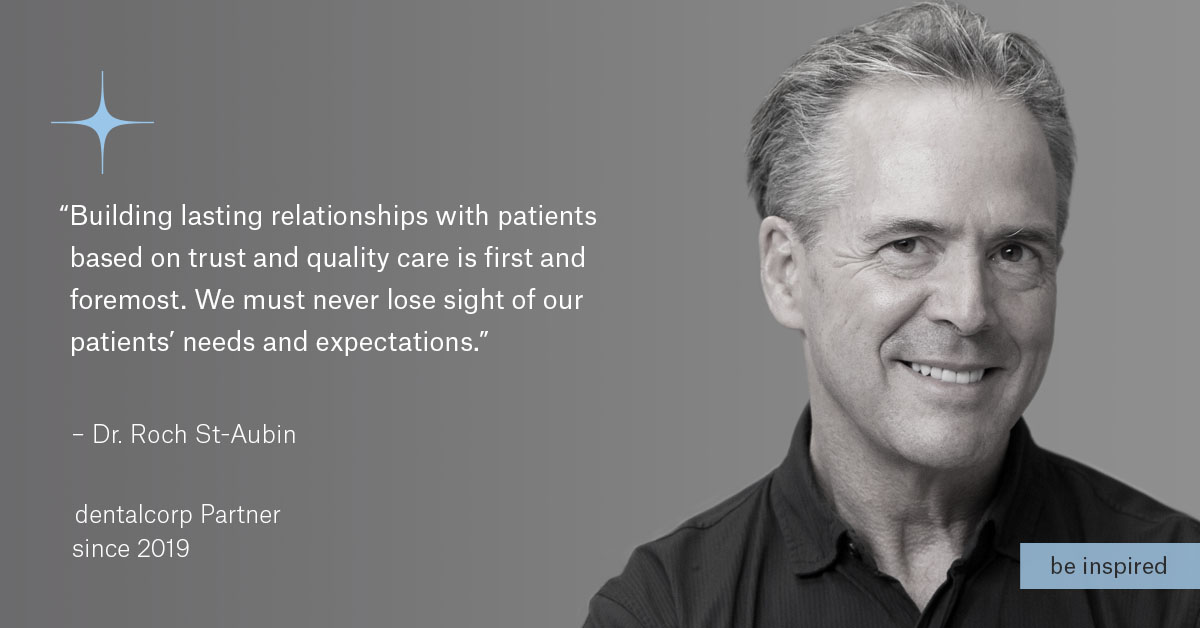 Can you tell us a little bit about your journey in becoming a Partner? What made you want to take a chance on dentalcorp?
I have always been goal oriented and as I looked ahead to the next chapter of my career, it was important for me and my Partners to create a transition strategy that would be a nod to all of the hard work done by past and current Partners. dentalcorp provided us with the resources to create that transition strategy. I have been involved in organized dentistry my entire career and I am acutely aware of the importance of working together to keep dentistry the great profession that it is. dentalcorp's depth and breadth of resources is proof of their commitment to our partnership and our profession. I am eager to see what the future holds.
What aspects of dentistry do you find most rewarding?
From a fundamental perspective, there is nothing more gratifying than relieving a desperate patient from the pain of a toothache – especially if they have held up their end of the bargain and have been receiving continuing care and are now turning to you for relief. Additionally, the upper arch makeover and the wonderful smile transformation that comes with it is incredibly rewarding. 
How have emerging technologies changed the way you practice?
Dental researchers work very hard to develop techniques and equipment that allow us to provide top notch care to our patients, and the incredible new technologies available today are abundant. Implants have revolutionized tooth replacement. Rotary endodontics and associated obturation techniques have brought speed and predictability to this aspect of our profession. Impression materials and scanning techniques have made prosthodontics easier. And let's not forget the improved quality of goods and services that our labs provide, as well as the effectiveness of the latest sterilizers.
What does patient centric care mean to you?
Building lasting relationships with patients based on trust and quality care is first and foremost. We must never lose sight of our patients' needs and expectations. Patient centric to me means informing and recommending. It means involving the patient in the decision-making process. This can only happen after they have been given the information they need to make an informed choice.
You are very involved with the Ontario Seniors Dental Care Program. Can you tell us a little about your work with this initiative?
The program itself was devised by the current provincial government to provide dental care for seniors in need of financial assistance. Because of how new it is, and because it has yet to be fully implemented, the final product has yet to be seen. 
My work on the Ontario Dental Association's Board of Directors and as a Political Contact Dentist has brought me close to this program. I also serve on a committee in my home town of Sudbury to help with the launch of this program locally. With the efforts of many dedicated people and staff who are committed to providing Ontarians with the best dental care possible, we hope to convince our politicians that, in order for this program to be beneficial for our seniors, it must be well managed and adequately funded. This also holds true for the other government sponsored programs such as
Ontario Disability Support Program (ODSP)
,
Healthy Smiles
and
Ontario Works
.
Why is it important for clinicians to help improve access to care?
Access to care as it pertains to our profession involves the lowering of boundaries that restrict the ability for vulnerable populations to receive adequate dental care. We all have an obligation as dedicated and compassionate professionals to provide care to these patients in need of our services. If we all give a little of ourselves, our communities will be stronger and healthier.