In this month's Partner Spotlight, we sat down with Dr. Jo-Anne Matheson to discuss her unique journey into dentistry, what she finds most rewarding and challenging as a woman in practice, and her advice for new dentists entering the field.

With nearly 30 years of experience in general dentistry, Dr. Matheson currently practices as a Principal Dentist at St. Laurent Dental Centre in Ottawa, ON.
---
 
Can you tell us a little bit about your background and how you got into dentistry?

I started university not exactly sure where I was going with my studies. I began my Bachelor of Science degree, but soon switched into the Dental Hygiene program at Dalhousie University after being inspired by my dentist in Halifax. It was during this program that I realized that I wanted to pursue dentistry. I was accepted the following year at Dalhousie and have not once regretted my decision.

I joined the military while in dental school and worked as a Dental Officer traveling and working in a number of offices, provinces and countries. I settled in Ottawa and began working at St. Laurent Dental Centre as an Associate while I was still serving. I eventually left the military but stayed working with St. Laurent Dental Centre and became a Partner. I am passionate about dental health and very much enjoy being a part of this industry.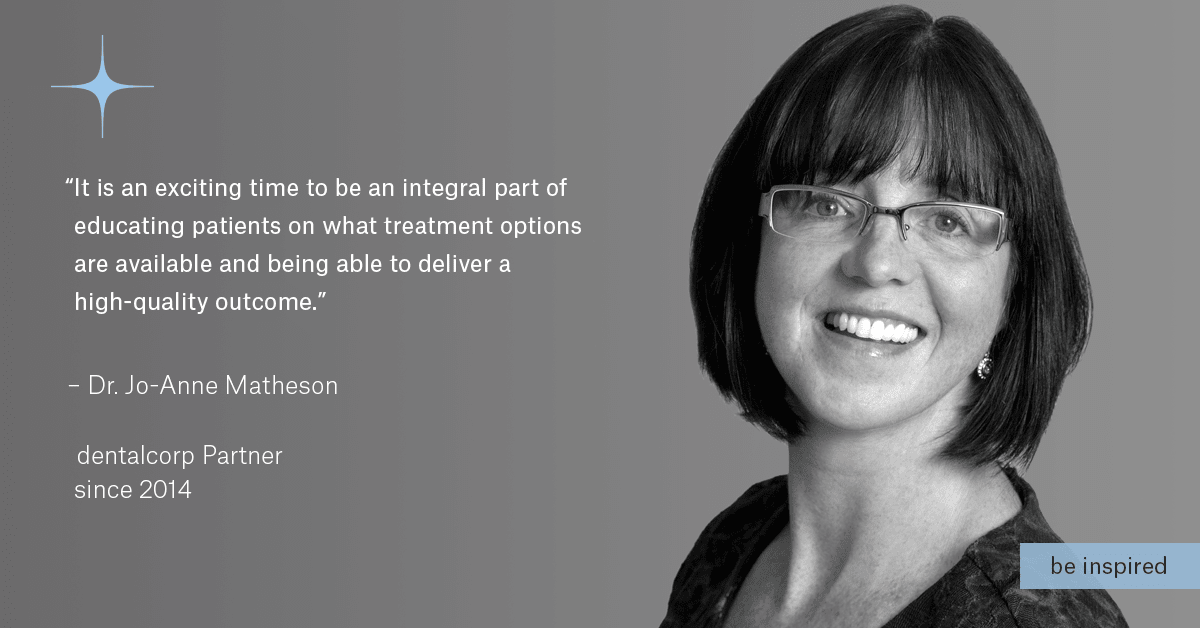 What do you find most rewarding and challenging as a woman in dentistry?

I think at the beginning of my career it was more challenging to be accepted as a dentist. It was not as common to see female dentists practicing and sometimes patients had some surprises when they realized I was female. I like to think that I won most of them over! As I became a wife and mother, I think the challenges were the same as any other professional/working-outside-the-home mom. We all want to be able to balance work life and home life. Sometimes, we're able to figure it out and sometimes we don't. And some days, we feel both ways! I am so pleased that more and more women are choosing dentistry as a career because I believe it is a great profession and delivering quality patient care is truly rewarding.



How have new technologies and advancements in the field impacted the way you practice?

As technologies improve, such as digital scanning machines, we can deliver more precise and aesthetic restorations in a timely fashion. We have more options for replacing teeth with the multitude of implant options. The use of lasers has been revolutionary. Invisalign is such a great alternative to traditional braces. I believe that with the advancements of dentistry, patients have more choices that suit their needs and are happier with the results that they receive. It is an exciting time to be an integral part of educating patients on what treatment options are available and being able to deliver a high-quality outcome.


What does excellence in patient care mean to you?

I treat the patient as a whole person. I enjoy getting to know my patients and working with them to find a solution to their oral disease or just be part of keeping their smile healthy. I think of each patient as being a family member and so I treat them as such.


What advice do you have for new dentists looking to move ahead in their careers?

As a new dentist, one should concentrate on providing patients with the best care that they can. Continue to ask questions of more senior dentists and continuously take courses. Don't isolate yourself. Get out there and meet with others in the profession to build a network of people to bounce things off of when something challenging comes your way, or to simply have camaraderie when things are tough. Dentistry is a team approach and so we should be part of the team for our benefit as well.