In this month's Partner Spotlight, we caught up with Dr. Jerry Baluta to discuss what he finds most rewarding about practicing dentistry, his passion for mentorship, and his advice for emerging clinicians.

A seasoned clinician with over three decades of experience in general dentistry, Jerry currently practices as Principal dentist at Odyssey Dental Care in Winnipeg.
---
Can you tell us a little bit about your background and how you got into dentistry?

I was born and raised in Winnipeg.  I graduated from the University of Manitoba's dental program in 1987.  Shortly after graduation, I worked alongside my partner for two years before I took over the practice. Odyssey Dental Care has since grown and expanded into a large eight chair clinic with four full-time dentists, along with myself. 

What do you find most rewarding about practicing dentistry?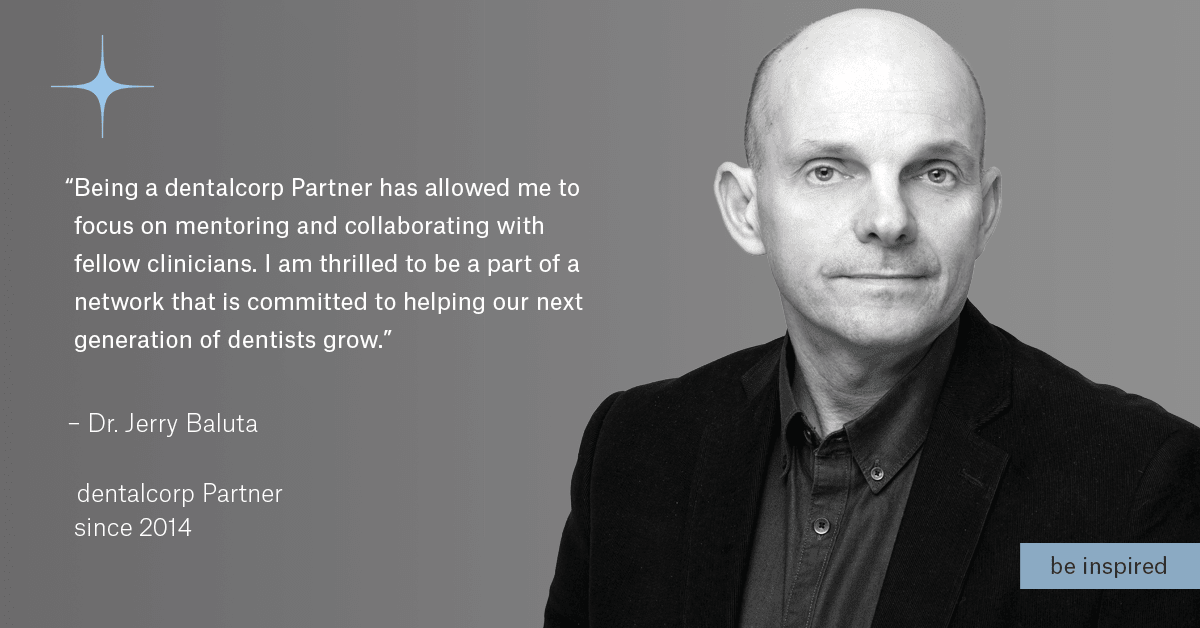 I love being able to help patients get to a much better and happier place with their teeth.  As dentists, we change lives when we help patients improve their oral health. It is so rewarding to see the change in patients for the better. It is also an incredible feeling to be able to care for multiple generations of families in my practice.

How have new technologies and advancements in the field impacted the way you practice?

While the principles we learned in dental school still apply, over 90% of the way we do things has evolved significantly throughout the years.  My fellow clinicians and I pride ourselves on being ready with new technologies to help our patients be more comfortable with—and take an active role in—their oral care.  With new advancements made in the field, we are able see and do more for our patients every day.

What does excellence in patient care mean to you?

Excellence in patient care means treating patients with the utmost care and respect.  It also means helping them be happy and healthy going forward.  We ought to pride ourselves on respecting our patients and anticipating their needs.

You are a regional Partner mentor of dentalcorp's Associate Development Program (ADP). Tell us more about your involvement in this program.

Working as a mentor is a true passion of mine.  I have been a clinical instructor at the University of Manitoba for over twelve years, helping to prepare new dentists for successful careers in patient care. I feel that we are providing a great service for our new and experienced Associates through the ADP.  We are helping them provide better care for patients, while enabling them to become better practitioners at the same time.  I am proud to be able to share some of my knowledge and experience with the next generation. Being a dentalcorp Partner has allowed me to focus on mentoring and collaborating with fellow clinicians. I am thrilled to be a part of a network that is committed to helping our next generation of dentists grow.

 What advice do you have for new dentists looking to move ahead in their careers?

New dentists need to focus on learning to provide the best care possible for their patients.  They need to focus on delivering the exceptional experiences as their clinical and communication skills continue to develop.  Continuous learning and knowledge sharing needs to be a top priority for every dentist.