In this month's Partner Spotlight, we caught up with Dr. Don MacRae to discuss his unique journey into dentistry, what he finds most rewarding about the profession, and what his practice is doing to support its community in the wake of the COVID-19 pandemic.

With three decades of experience, Dr. Don currently practices as Principal Dentist alongside his Partner at Peachland Dental Centre in Peachland, BC.
---
Can you tell us a little bit about your background and how you got into dentistry?

I grew up in Regina thinking I was going to play for the Saskatchewan Roughriders, and be a general surgeon like my father and his father before him. From the time I was in grade five, I was called 'Dr. Don.' I ended up spending a lot of time on the football field and working in hospitals – the intent was to do both of course! A dramatic knee injury ended my football career. At that time, my girlfriend (and future wife) convinced me to apply for both dental and medical school. I am now grateful I missed the cutoff for medicine and started my journey in dentistry. For the last thirty years, dentistry has been my passion. My wife Kim and I have been partners building our family of four and multiple dental practices in the Okanagan Valley.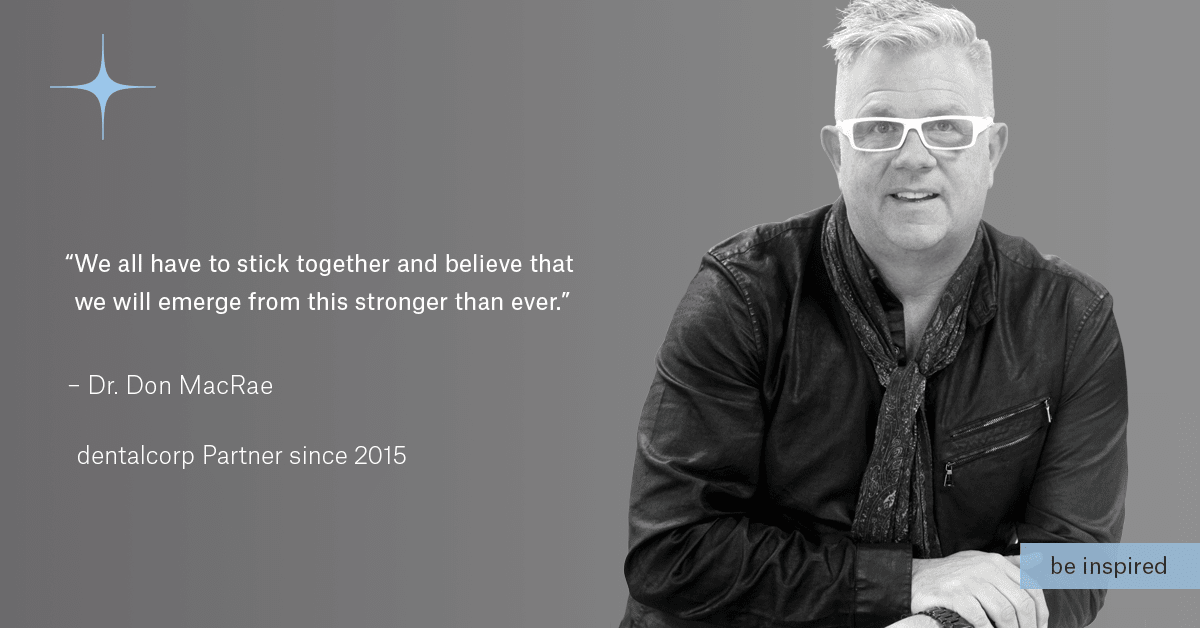 Can you tell us a little bit about your journey in becoming a Partner? What made you want to take a chance on dentalcorp? 

I first learned of dentalcorp from my colleague Dr. Phil Kachanoski, who informed me that he had become a partner. It didn't take long before my partner Dr. Jeff Krawchuck and I were in negotiations with dentalcorp. The decision to partner was a tough one at first with us being at two different stages of our careers, but we soon realized the future of dentistry was changing and we wanted to drive the bus, not be run over by it. We have been at it for almost five years and we both feel that partnering with dentalcorp was a great decision for us.


Why is it an exciting time to be a dentist?

Dentistry is an incredible field to be in. We can focus on any aspect of the profession and strive for excellence in multiple disciplines. Dentistry is unique from other healthcare fields in that we can operate essentially independent dental hospitals without compromising any aspect of patient care.  It also allows us to channel our talents in any direction or sub-discipline. 


What do you find most rewarding/challenging about practicing dentistry?

Dentistry is not just about teeth. It is about the people and that is why I have enjoyed looking after my patients for so many years. I love working with children and multiple generations of families. Being part of a special group of experienced clinicians in the dentalcorp network is also extremely rewarding.

One of the biggest challenges many dentists face is running a business. We spend a ton of time educating ourselves clinically and often overlook the business side, and it can sometimes be disastrous. Partnership has greatly eased those concerns. It's now much easier for us to focus on patient care.


What advice do you have for emerging dentists?

To the new dentists just entering the field, you are very lucky to be part of a great profession. Don't forget to be thankful for the education you have received as it is extremely valuable. You have the power to shape the profession as the future unfolds – even if you have a ton of student loans to pay off. Seek out mentors who can help guide you through the tough decisions that you will surely have to make. Ultimately, the paradigm has shifted – it's not like it used to be. There are many options to consider as you embark on your career in dentistry and they don't all involve carrying debt for ten to twenty years.

 
In response to the coronavirus' rapid spread in Canada, regulatory authorities across the country have recently advised dental practices to reschedule all non-essential dental treatments, reserving treatment for emergency cases only. What are some of the ways in which you and your practice are supporting your community during this difficult time?

We have all been affected by the coronavirus. Our primary responsibility is our patients and team members.  dentalcorp's proactive response has been reassuring for Partners and their teams – the advantage of being part of a large network became readily apparent. Now we are taxed with the reality that our offices will not be operating as they used to be for the time being. We are currently looking into the allocation of PPE supplies to our local hospitals. We are also doing a lot of tele-dentistry and touching base with our patients and team members to ensure that they are keeping well. 

Never in the history of our profession has dental disease been put on hold and we are going to have to be prepared for when we are called back into work. Being part of a small community, it is really important that we help out in any way we can. I am hopefully going to be able to help some patients in the hospital setting, especially children in pain. We all have to stick together and believe that we will emerge from this stronger than ever.