The widespread social and economic devastation caused by the COVID-19 pandemic has left industries reeling across the globe – the dental industry being no exception. Like many non-essential businesses, thousands of dental practices across Canada were mandated by regulatory authorities to temporarily shut down, reserving treatment for emergency cases in a bid to help flatten the curve.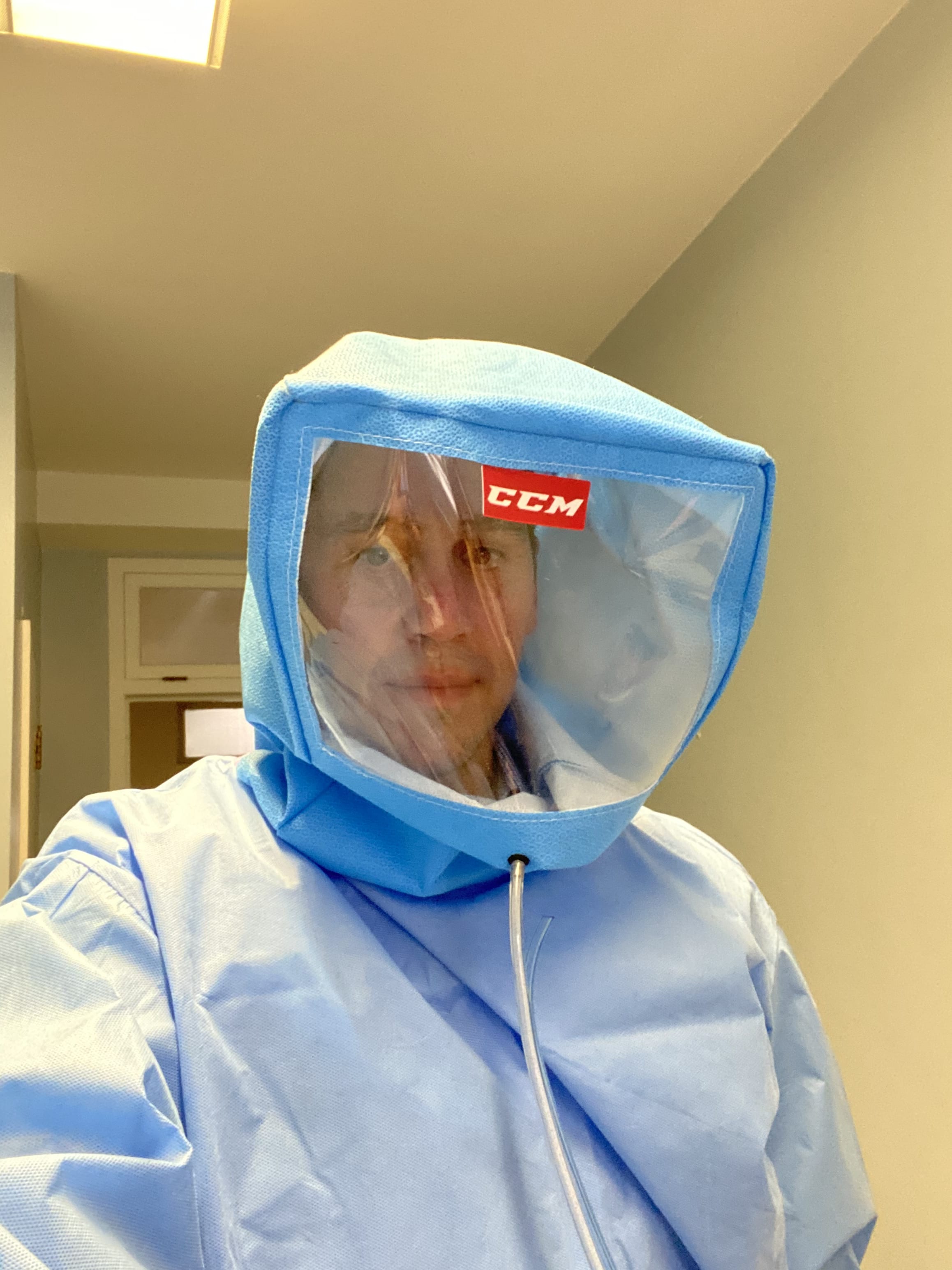 Underneath the wreckage caused by the virus' spread, however, are inspiring stories of human kindness and triumph – community members banding together and extending a helping hand to those in need. We are also bearing witness to disparate industries joining forces in the interest of the greater good.

One such example is the remarkable story of Montreal based maxillofacial surgeon and dentalcorp Partner Dr. Rene Caissie, whose innovation, bravery and perseverance has played a pivotal role in Canada's fight against COVID-19.
A grave new reality

With a nation-wide shortage of personal protective equipment (PPE) and anticipated surges of Coronavirus patients in the coming weeks, front-line healthcare workers are facing the grave new reality of risking their lives daily through increased exposure to the virus. Recent statistics on the growing number of infected healthcare workers is unnerving.

"Every day we are walking into new unknowns," says Rene. "Every untapped resource, every missed collaboration with other fields of knowledge, feels like lost time and lost lives. It also introduces a strong sense of unease at work – something that I have never felt in my career. Everyone is now a COVID-19 possible patient."

After retrofitting his maxillofacial surgery clinic, Clinique De Chirurgie Maxillo-Faciale Du Grand Montreal, to intake 100% of Sacré Coeur Hospital's emergency dental patients, Rene knew he and his team risked additional exposure to the virus. He soon discovered his practice lacked the adequate PPE for treating patients through the crisis and felt a strong sense of duty to protect himself, his family, his team members and beyond.

"I have a two-year-old son who becomes dangerously asthmatic when he gets a respiratory infection, so bringing home this virus was not an option. At the same time, I could not bring myself to walk away from my profession, especially in this time when patients need us the most," he says. "I feel a sense of responsibility to be more open minded and resourceful than ever in order to contribute what I can to quickly force an end to this."

He began to look for solutions to address the PPE gap, but nothing he deemed appropriate was accessible. So, he took matters into his own hands by creating a new disposable protective surgical hood that would act as a viable—if not more effective—alternative to the N95 mask, as it is not dependent on a correct fit for the user's face. Providing complete coverage for the entire head and face, the hood uses positive air pressure, which augments the protective index of the device by a factor of 100. The design further allows for safe removal, a critical period when many PPE users contaminate themselves.

"I decided we needed to build our own equipment with materials that are readily available here in Montreal so that this could move quickly and without having to depend on more external factors than absolutely necessary," he says.

He connected with CCM, the world's largest hockey equipment manufacturer, whose people were generously willing to offer their expertise, manpower and state-of-the-art equipment to produce the head gear at their factory in St-Jean.

Light at the end of the tunnel

The new protective head gear will be made available to front-line health care workers in the coming weeks.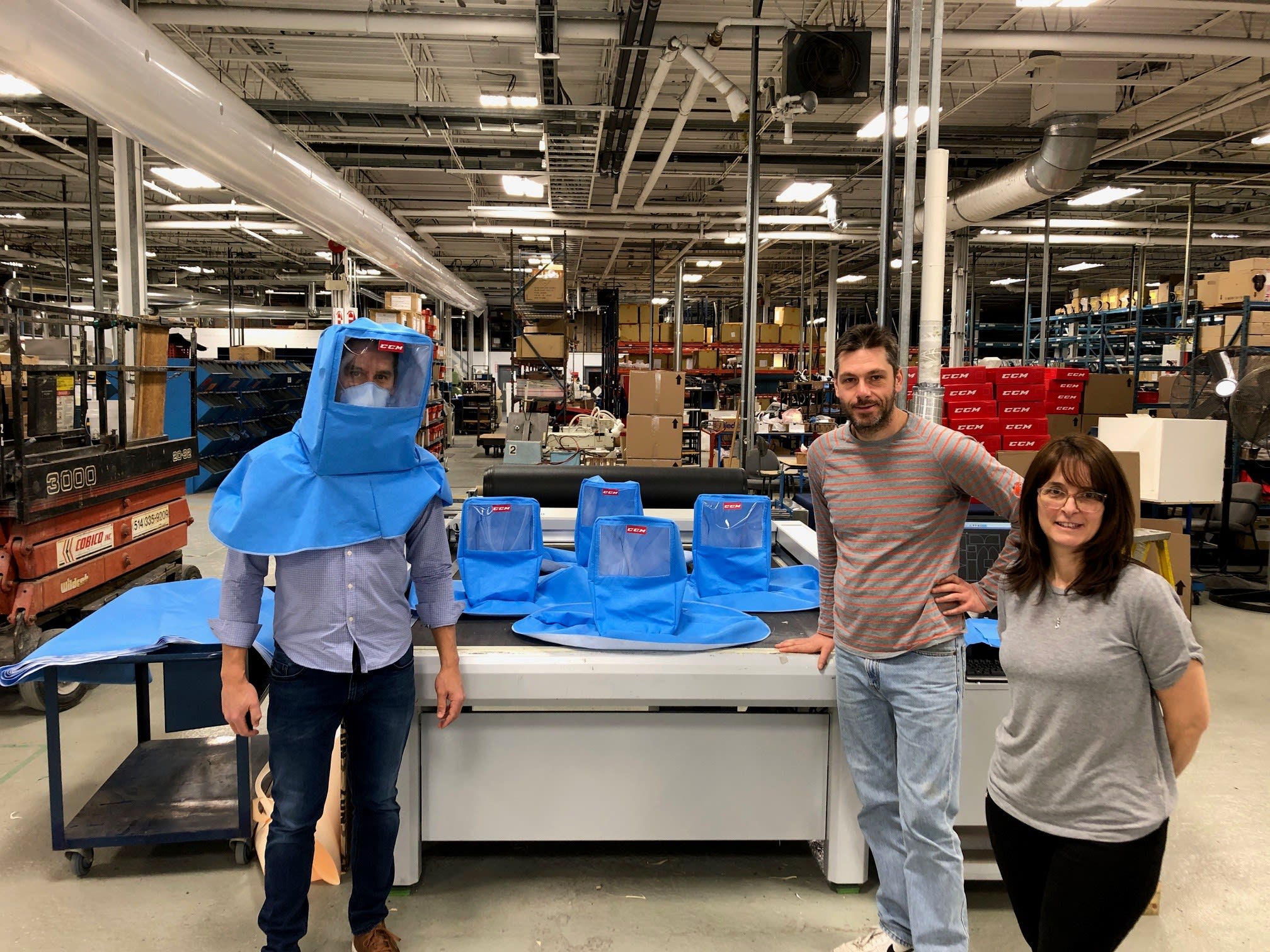 Rene hopes the new supply of PPE will offer other healthcare practitioners some peace of mind knowing they are protected on the front lines of the fight against the virus. "I know that I am not the only medical professional who has had to consider staying home because of a compromised family member and I hope this will allow for more of these healthcare workers to be able to continue to work, safely and with less worry."

Ultimately, Rene remains hopeful in the collective action of Canadians in stemming the crisis.

"After the last few days of working closely with many different people—designers, health care workers, professionals from various different industries, to name a few—who have been so willing to share their time and knowledge, I have realized that almost everyone wants to help, and when given the opportunity, they generously step up to contribute. I feel hopeful for the future."