In this month's Partner Spotlight, we spent time with Dr. Lauretta Gray to discuss how the COVID-19 pandemic has impacted her practice, the advantage of being a part of a large network in a time of crisis, and her message of support for front-line healthcare workers.

With nearly two decades of experience, Dr. Gray currently practices as Principal dentist at Warman Dental Centre in Warman, Saskatchewan.
---
How has the COVID-19 pandemic impacted you and your practice? What has been your greatest challenge so far?

I've been (jokingly) referring to myself as a Dental Psychiatrist because now I counsel patients, talk them through their problems and prescribe them medication. It's been really challenging for me personally because, due to a shortage in N95 masks, I have been unable to offer emergency dental services in person, and I love that aspect of dentistry especially. I find it really rewarding when patients come in with a problem that I can fix or relieve them from pain. So, it's been frustrating not having my normal way of helping.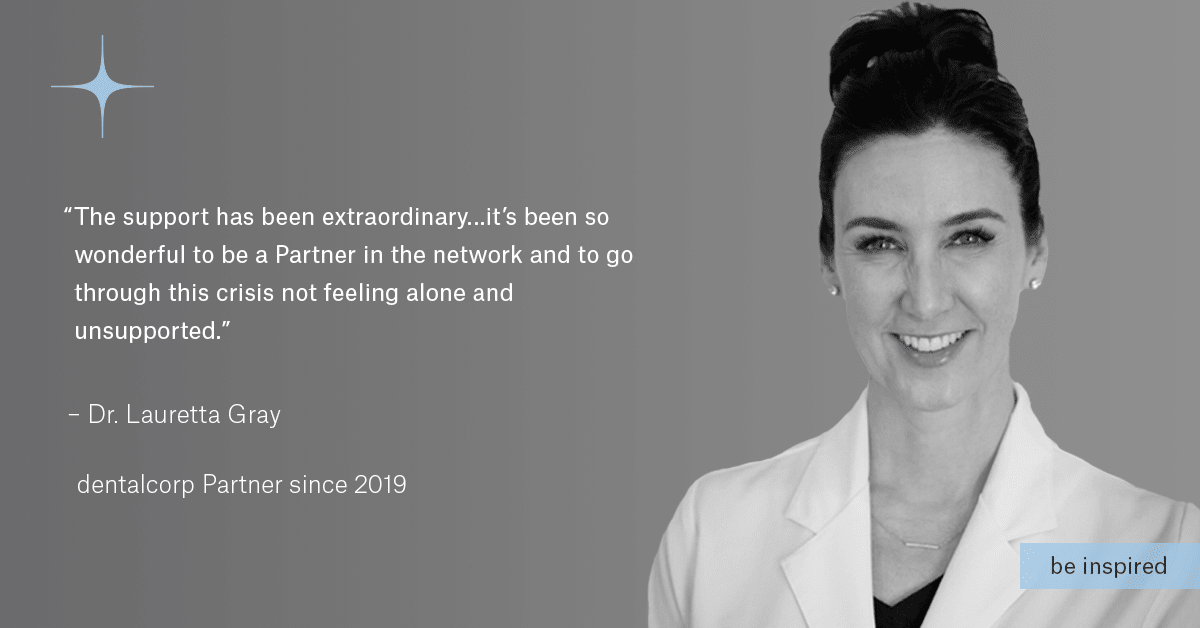 What are some of the ways in which you and your practice are supporting your community during this extraordinary time?

I've been doing a lot of tele-dentistry – my patients have my cellphone number, so many of them have been calling, texting or FaceTiming me. Although I've been unable to treat patients physically in person, we've been communicating virtually, and I've been coaching them though. I've also figured out a way to get temporary filling and crown cement material to patients safely. At the end of the day, we're all doing each other's handholding and it feels good to know that my patients still feel supported by me.

What are some of the ways in which dentalcorp has supported you and your teams throughout this crisis?

The support has been extraordinary. dentalcorp's been there to help with everything from temporary layoffs, to navigating the government's Canada Emergency Response Benefit (CERB) program. I've never been happier to be part of an amazing team of people, especially our Human Resource Business Partners. I appreciate all of the information sessions and webinars, as well as the emotional support offered by the network. A few of the other women dentists in the network have reached out to each other for support – and we've even set up a virtual cocktail night on Wednesdays. It's been so wonderful to be a Partner in the network and to go through this crisis not feeling alone and unsupported.

What message do you have for healthcare workers on the front lines of the fight against the virus?

I am very grateful for the skill and expertise and professionalism of our front-line workers. I feel like these kinds of jobs are truly a calling and I hope we can ensure the proper protocols and safety for them. I feel infinite gratitude for the people who are taking care of us at this time.

What advice do you have for fellow dentists right now?

You really just have to do your best to help in the ways that you can you can right now. We're fortunate to be in the position that we're in to help people even though many of us can't see them right now. That emotional support I think is very meaningful to patients still. I can't imagine what it must be like to be a new grad right now with massive student debt and wondering what the future of dentistry is going to look like. My advice to them is to hang in there – we're a resilient and industrious bunch and we will figure this out, together.