In this month's Partner Spotlight, we caught up with Drs. Terry Foreman and Eric Haley to discuss their journey into dentistry, the most rewarding aspects of reopening their practice, and the valuable lessons they've learned from this pandemic.

For the past 31 years, Terry and Eric have practiced alongside each other as Principal dentists at Riverview Dentistry in Riverview, New Brunswick.
---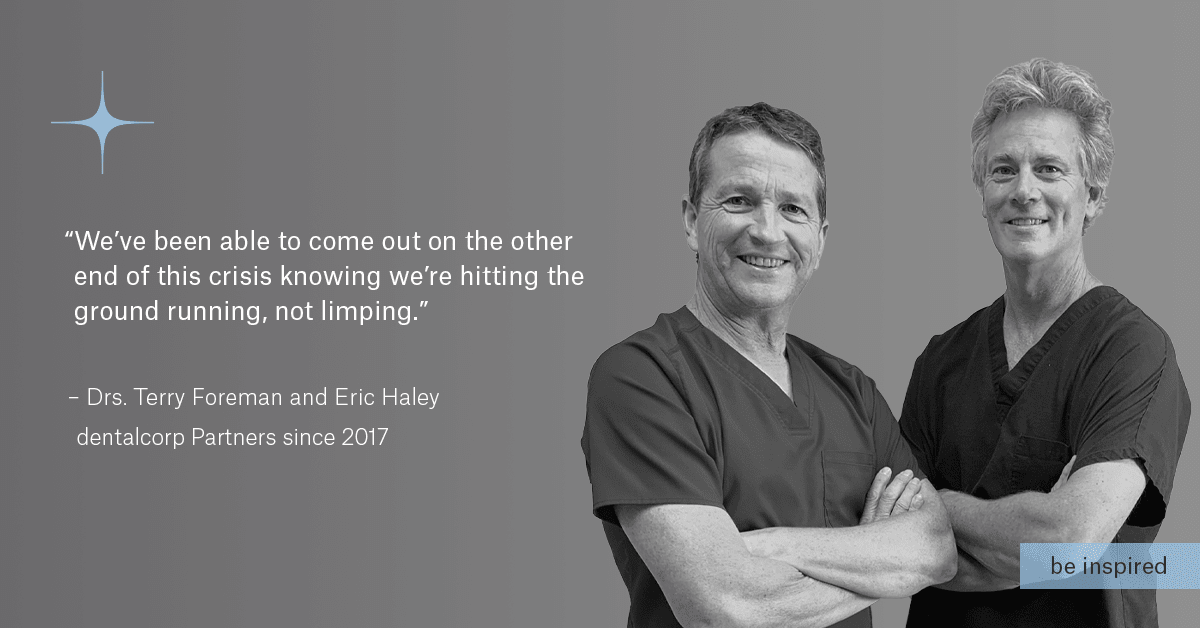 Tell us a little bit about your backgrounds and how you came into dentistry.

Terry: I wanted to be a dentist from the time I was in Grade 7. I always liked my dentist, and I was always interested in health sciences. I followed the steps and I had a great run along the way – it's more about the journey than the destination, and I had a lot of fun. There were a few sidetracks, I took a year of business, which certainly helped me later on. It's been 31 years that I've been practicing dentistry now.

Eric: Similarly, I always gravitated towards the health sciences in school. I had options in different professions and, when I was younger, I visited my dentist quite frequently because I was in need of a lot of restoration. I saw a lot of the kind of work that he did and how much it aided in someone's physical wellbeing and appearance, and that's where I set my energy towards. And it has worked out very well. I enjoy the social interaction that you have with people in this job, and the services we can provide to help them. Terry and I have been business partners for 31 years, and in August, I will have been practicing 33 years.

How has the COVID-19 pandemic impacted you and your practice?

Terry: This has been a humbling experience. It makes you realize how fortunate we have been in our lifetime as a society to not have been through any trying situations to upset our country the way this has. And I don't think we were really ever ready for it. It has made us very humble in how little control we have in the health profession and as a society when something like this comes along. I never dreamt there would ever be anything able to shut us down like this has done to our nation, our economy, our profession. Basically, everything came to a grinding halt, and it was at mother nature's whim. When you see this happen, it also gives us an opportunity and challenge to rise to and be there for our patients. And we were very proud of the fact that we kept our practice open for emergencies. As much as it has been terrible and will cost many people lots of money, it's secondary to the fact that everyone here is healthy and we're able to continue on caring for our patients.

Eric: I think the hardest thing for us was that, even though we stayed open for dental emergencies, we weren't really seeing very many patients. It was really hard to hear our patients calling with problems, but many of these problems didn't fit into the criteria of a true dental emergency, and yet they still had a devastating impact on the individual. It was incredibly difficult to deal with all these calls and have patients understand that we couldn't really do much for them other than support them on the phone or call in some medication for them. But I have to say, almost all of our patients were so understanding – they understood our predicament, their own predicament, and they understood what we could and couldn't do.

New Brunswick recently lifted restrictions on dental practices. What has been the most rewarding aspect(s) of reopening your practice?

Eric: We have a long list of patients with problems that we weren't able to see before, so it's been so good to be able to start seeing them again. And it's been great to be able to do some real dentistry again – to help get people out of pain and to be able to improve patients' physical appearances and aesthetics. All of these people have been suffering with a great many of these problems and it's been so good to be able to get back and take care of some of those issues. It's also been great to reunite with staff and provide a sense of wellbeing to our team by allowing them to get back into their normal routines.

What are some of the ways in which dentalcorp has supported you and your team throughout this crisis?

Eric: dentalcorp has been great in providing us information and resources to reach out to our staff with and allay some of their fears. The network has been great at providing up-to-date information on the pandemic, obtaining PPE for us during these very trying times, and providing many webinars and zoom calls from experts on the cutting-edge of this crisis. It's so great to know we have a network of people behind us. Just feeling supported and that we're not in this all alone has been very comforting.

Terry: When you look at the perks of being a member of a network like we are, and the guidance and support that we have, often times you don't know how much that affects you until you open back up and realize that we were able to do things well because we were nudged and prodded along to move down a certain path. Once we got back up and running, we realized that a lot of practices are in a mess that we are not in. The gratitude we have for the amount of support that we've received over these past few months, and to have our team members understand and realize the benefits and support as well, is extraordinary. To be able to reach out to colleagues in the dentalcorp network for situations that needed a little more clarification has been great. I recently contacted another dentist in the network, whose wife was an obstetrician, for advice on a pregnant patient. It's incredible to be able to treat someone because of the relationships we've made in this network. Additionally, having to layoff our staff was one of the hardest things we've ever had to do, and the support that we received from the network in that regard has been amazing. We've been able to come out on the other end of this crisis knowing we're hitting the ground running, not limping.

What have you learned from this pandemic?

Terry: I appreciate our receptionists, our assistants, dental hygienists, and all our other team members immensely. After spending 8 weeks in here with just us and realizing what they do on a regular basis that we take for granted, it just blows me away.

Eric: I won't take offense to Terry's criticism of my dental assisting capabilities (haha). Because it was just the two of us, we looked after everything from reception to dental assisting, and you certainly do appreciate what our staff are able to do for us. This also might sound cliché, but people have been saying something like this has been coming – we've had warnings. When it finally hits, it's a very surreal experience, and you realize that we shouldn't be taking things for granted. And once we are able to do these things again, I hope it changes our outlook on that and makes us more appreciative of the freedoms that we have.

Terry: I think we've taken a step back about 50 years and realized how important the little things are, and how the slowing down of the economy and society is not always a bad thing – it's actually allowed us to restart. As Eric said, we can look at this and take solace in the fact that we live in a very wonderful country and we should appreciate it.