In this month's Partner Spotlight, we sat down with Dr. Ariel Cohen to discuss how his practice was able to successfully adapt and remain open throughout this pandemic, his experience volunteering with virtual dental care, and the key lessons he has learned from this crisis.

With 13 years of experience in dentistry, Ariel is a multi-practice owner and Principal Dentist at Cloverdale Dental Group in Etobicoke, ON.
---
Ariel initially had his sights set on a career in the medical field. It wasn't until his final year studying physiology at Western University that he decided to take a leap of faith and pursue a future in dentistry – a profession he knew very little about at the time. After four years of dental school and 13 years in practice, Ariel is now a proud dentalcorp Partner and successful owner of four practice locations across the GTA.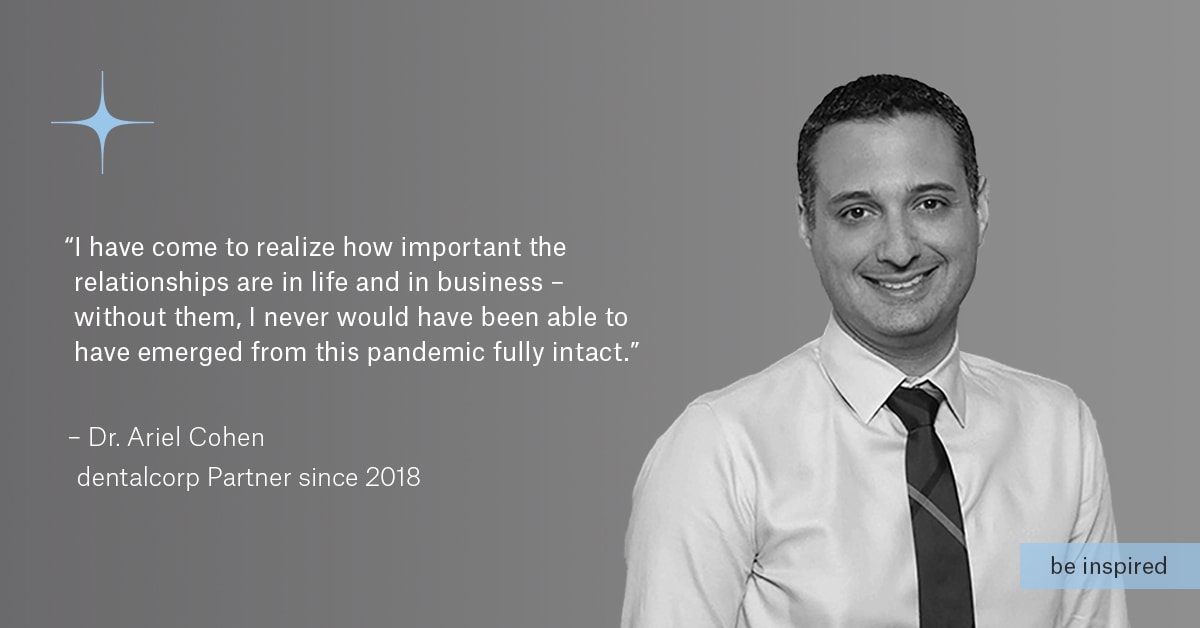 In the wake of the COVID-19 pandemic, a time when the vast majority of dental practices in Canada were forced to shut down, the operating and financial support Ariel received through partnership helped him keep his practices open for dental emergencies. "I felt it was a duty and an obligation as a health care provider to be available in person for my patients," he says. "We made a lot of changes including learning how to adapt to a 'new normal' in dentistry, a normal that I would have never envisioned."

As dental practices receive the green light in Ontario to fully reopen in the coming weeks, Ariel and his practice teams will be prepared to hit the ground running in a safe and effective manner.  "As our offices completely reopen, we have made many changes and modifications both structurally and the way we treat and see patients, in order to make our patients and team members feel as safe as possible coming into the dental office," he says.

When dentalcorp launched a free virtual dental care platform at the height of the pandemic earlier this spring, Ariel was one of the first dentists in the network to volunteer his consultative services through hellodent.com.

"It has been a very impactful experience," he says. "I must have done over 50 virtual emergency consults in the first week. Patients were really grateful for the fact that there was always a dentist available for them, especially at a time when the majority of offices just shut their doors. Being able to help patients through this difficult time has been incredibly rewarding."
 
Ariel largely credits being a part of a large network for helping to ease the burden of operating a small business during this pandemic. "During the pandemic, all I could think about was how lucky I was to have partnered with dentalcorp when I did," he says. "The timing truly could not have been any better, and it has proven to be one of the best decisions I have ever made. Without our partnership, I never would have been able to deal with the many staffing, operational and financial challenges our practices faced during this crisis."

The underlying lessons of this pandemic have not been lost on Ariel. "This pandemic has taught me many valuable lessons," he says. "First and foremost, I have learned never to take anything for granted. Additionally, I have come to realize how important the relationships are in life and in business – without them, I never would have been able to have emerged from this pandemic fully intact."