In this month's Partner Spotlight, we caught up with Dr. Francis Cote to discuss his childhood dream of becoming a dentist, his journey to Partnership, and his advice for new dentists.

With 12 years of experience in dentistry, Francis currently practices as Principal Dentist at Centre dentaire et d'implantologie Francis Côté in Sept-Îles, Quebec.
---
Can you tell us a little bit about how you came into dentistry?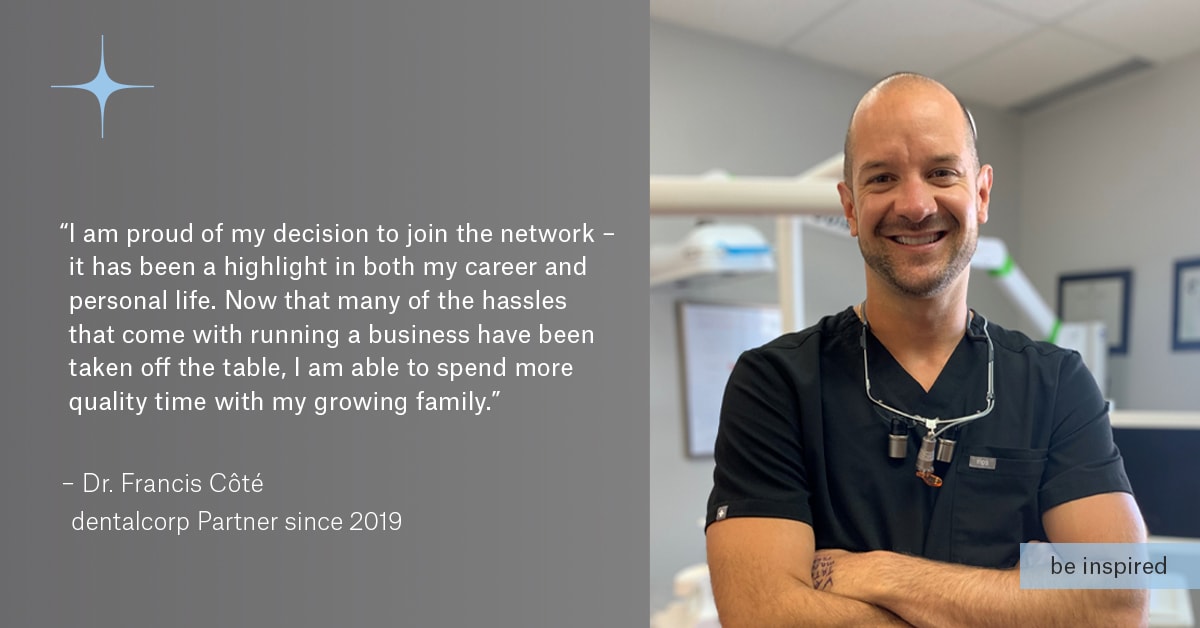 I knew I wanted to be a dentist from an early age – I've been talking about it since the 6th grade. As a child, I could not articulate precisely why, but I was always looking forward to seeing my dentist and dental hygienist. I recall telling my parents that one day I would become a dentist and help people. I never changed my mind and continued my path toward realising my dream. I've always had a lot of support from my parents to me reach that goal and become the dentist—and man—I am today.

What do you find most rewarding about practicing dentistry?

I have always loved practicing dentistry. It is far more rewarding than I ever could have imagined when I graduated from Laval University back in 2008. I am honoured to work with my incredible colleagues here at my practice and lead a team of 20+ people. I'm so proud of what we have accomplished together over the years, and everything we have put in place since our practice was established in 2014. We have since grown from 7 operatories to 10 and have streamlined a lot of processes. My team and our patients are my number one priority, and it is so gratifying to provide quality care to our patients day-in and day-out, year after year.

Can you tell us a little bit about your journey to becoming a Partner? What made you want to take a chance on dentalcorp?

Living in Sept-Îles, I have always made decisions for me, my family, my team and my patients. As a practice owner, and father of 3 (soon to be 4) children, it has been a challenge for me to balance work and family life. With the long hours and demands that come with running a practice, I understand how difficult it is to run a business properly while spending quality time with family.

One day last spring, I was in a course outside of the city and I was speaking to a friend who was telling me great things about dentalcorp – at the time, I had never heard of the network. So, out of curiosity, I placed a call to learn more about what they have to offer. I initially had no intention of becoming a Partner because, as a young dentist, I had only owned my practice for a few years. However, after a few meaningful discussions with the team, I knew I wanted to become a Partner in dentalcorp. I am proud of my decision to join the network – it has been a highlight in both my career and personal life. Now that many of the hassles that come with running a business have been taken off the table, I am able to spend more quality time with my growing family. I haven't regretted the decision for a minute.

What do you believe has been your practice's key to success, and what advice do you have for emerging dentists?

When I look back at all the success we've had over the last decade, the only thing I can say is that success comes with a lot of hard work. Like any other business, you need to spend the time and effort to make sure your practice develops properly and to ensure its continued growth and success. You need to put in the hours, stay up-to-date on the latest technologies and trends, and continuously educate yourself on how to become the best. And after that, you need to do everything in your power to stay ahead of the curve. But I can assure you, all the hard work and sacrifice will pay off.