In this month's Partner Spotlight, we sat down with Dr. Stanley Mann to discuss his journey to becoming a dentist, what he finds most rewarding about his practice, and the most valuable lesson he has learned.

With over 30 years of experience in dentistry, Stanley practices as Principal Dentist at West Mall Dental Group in Etobicoke, Ontario.
---
Can you tell us a little bit about how you came into dentistry?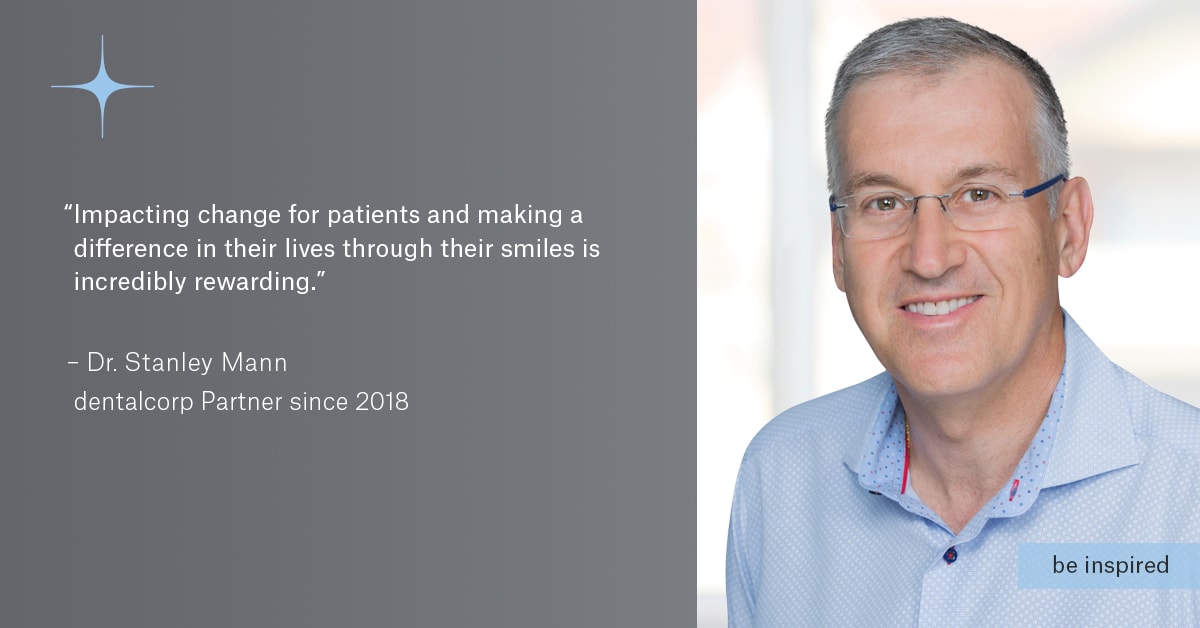 As a teenager, I went through orthodontic treatment. It was a really positive experience and piqued my interest in dentistry. As a young student, I was unsure whether I wanted to go into engineering, medicine or dentistry, and ended up pursuing the latter. I graduated from dental school in Johannesburg, South Africa in 1988. In 1994, I immigrated to Canada with my wife and started West Mall Dental Group a year later. I have been practicing there for over 25 years now.

Can you tell us about your journey to becoming a dentalcorp Partner?

I had an initial discussion with Graham Rosenberg in 2012 when dentalcorp was just getting off the ground. I am good friends with one of the first Partners to join the network, so I learned a lot about dentalcorp and its core values. At that stage, for whatever reason, I felt I wasn't quite ready at that point in my practice to Partner. I ended up joining the network in 2018. After more than 30 years in practice, the timing was right. After speaking to a number of dentalcorp clinicians who were very happy with their decision to Partner, and looking at family needs, partnership checked a lot of the boxes that I needed, including spending more time with my family.

What do you find most rewarding about practicing dentistry?

Impacting change for patients and making a difference in their lives through their smiles is incredibly rewarding. Helping to change their lives for the better—especially when it comes to helping patients out of pain— is so gratifying. The relationships that I have developed over the years with my patients are so important to me – and this has become especially eye opening during the pandemic. I've made meaningful connections with patients on both a personal and professional level, and I feel honoured to have become a part of their lives.

In your 30+ years in practice, what is the most valuable lesson you've learned?

I'm still trying to learn it! I'd say the most valuable lesson that I've learned so far in my practice is to try to not put too much pressure on myself. I think dentists are particularly prone to taking responsibility for everything that goes on in people's mouths and that puts a lot of pressure on us. While we do need to take responsibility for the work we are doing, we often take responsibility and ownership for things outside of our control. It's not an easy thing to do and it's a lesson I'm still trying to teach myself.