In this month's Partner Spotlight, we sat down with Dr. Mark Antosz and Dr. Robert Vincelli to discuss what they love most about being orthodontists, their work in the community, and their top tips for patients undergoing ortho treatment.
With over four decades of combined experience, Mark and Robert currently practice as principal dentists at Antosz Vincelli Orthodontics – which has proudly delivered healthy bites to Calgary families for the past 30+ years.
---
Can you tell us a little bit about how you came into dentistry?
Mark: I opened my general practice in 1980 in Dawson Creek, BC. With the support of some great colleagues, I had the opportunity to do pretty much everything from repairing broken jaws to full mouth rehabilitation. But orthodontics has been near and dear to my heart since my first lecture on the subject in 1976. Nearly a decade later, I moved my family to Toronto to enter a combined specialty/Ph.D program in orthodontics. In 1988, we returned west to Calgary. In 1990, I established our current location, where I've happily practiced for over 30 years.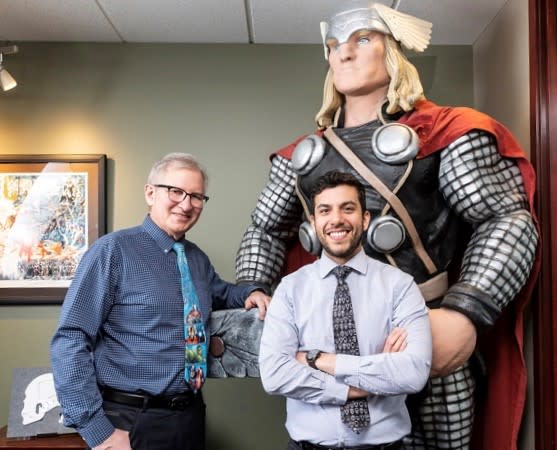 Left to right: Dr. Mark Antosz, DMD D. ORTHO; Dr. Robert Vincelli, DMD, FRCD(C). Photo: Katy Whitt

Robert: Being the son of a dentist, I always had an interest in dentistry. After completing my dental degree at McGill University in Montreal, I decided that orthodontics was what I really loved. I pursued specialty school in the US and completed my orthodontic residency at the University of Pennsylvania in Philadelphia. As luck would have it, one of my professors in Philadelphia knew Mark personally and spoke very highly of him. When I told him I intended to move to Calgary, he put me in contact with Mark and the rest is history.

Why did you decide to partner with dentalcorp?

Mark: There were many reasons behind why I partnered back in 2013 – I was actually the second partner to join in Western Canada and the first in Alberta – but I was primarily drawn to the mentorship opportunities that were offered through the network. Having great mentors was very important to me in my own career. dentalcorp provided me with the chance to help Robert establish a solid clinical foundation and, thankfully, he embraced the opportunity. Now, there are days when the mentee is the master and it's incredibly gratifying. Going forward, there will be more opportunities to do further mentoring, and thanks to our partnership with dentalcorp, I am able to start stepping back from full-time practice on my own schedule.

Robert: I had a lot of questions about becoming involved in a dentalcorp practice before joining Mark. I had heard a lot of negative comments about corporate dentistry while in graduate school but, in reality, dentalcorp is very different than many of the existing corporate models. They've always had the attitude of wanting to partner with good people and great practices, provide them with support if they need it, but ultimately get out of the way and let them continue to do what made them successful in the first place. Thanks to dentalcorp, we have been able to expand to other locations and find new opportunities for growth. It would have been very risky and impossible to do on our own.

What is the best part about being an orthodontist?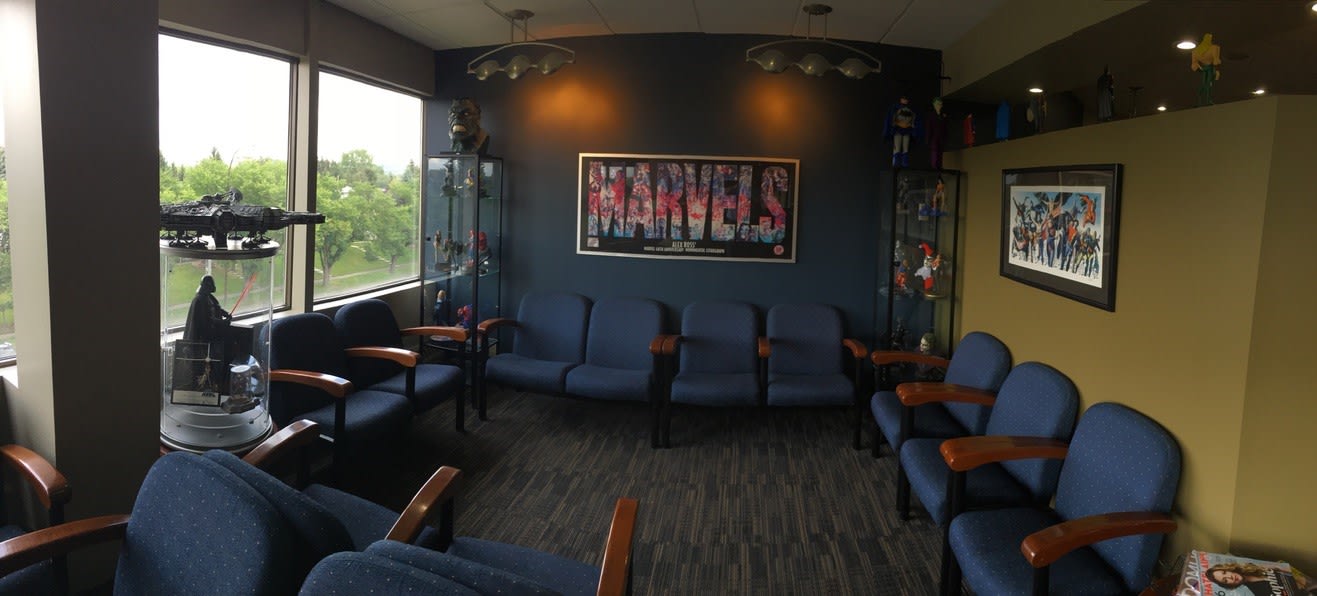 Robert: Without a doubt, the best part about being an orthodontist is having the privilege to make a meaningful difference in someone's life. Whether it is getting people out of pain related to temporomandibular disorders or giving someone a healthy bite, there are many times in a day that I feel grateful to be in this profession.

Mark: For me, it's patient education – helping patients understand their problems and how they can be treated. Taking the complex and making it simple and understandable. And in doing this, we can also make patients' treatments more predictable and effective. This gives me the greatest satisfaction.
                  
Your family-friendly practice is outfitted with superhero memorabilia. What was the inspiration behind this unique design?
Mark: The memorabilia and collectibles in our office isn't part of any grand design. It's comprised of the stuff that I think is pretty cool, and my wife said I couldn't display it all over the house, so the second choice was at my office – which has been a hit with our younger patients.

Robert: I have to say it must have been fate that I joined this practice, since my birthday just so happens to fall on "Star Wars Day", a.k.a. May 4th. May the fourth be with you!

Mark: And no, Rob's birthday being on Star Wars Day didn't influence bringing him on board (but we like to pretend it did).

Your practice is very involved in giving back to your community. What are some of the charitable initiatives you support?

Mark: Supporting the community that supports us has always been important to our practice. We've covered all the bases possible, from sports teams and school reading programs to major endeavors that allowed us to directly give hundreds of thousands of dollars to worthy charities. We've hosted events that focused on women's issues, access to sports for less privileged children, guide dog education and much more. We also developed a very unique WhatGivesYYC campaign that leveraged social media to increase awareness and support of great Calgary charities that were of a lower profile. We've always tried to be unique, effective and creative – and that's all thanks to the very engaged team in our practice. They've always gone above and beyond in their efforts.

It's National Orthodontic Health Month! What are your top tips for patients undergoing orthodontic treatment?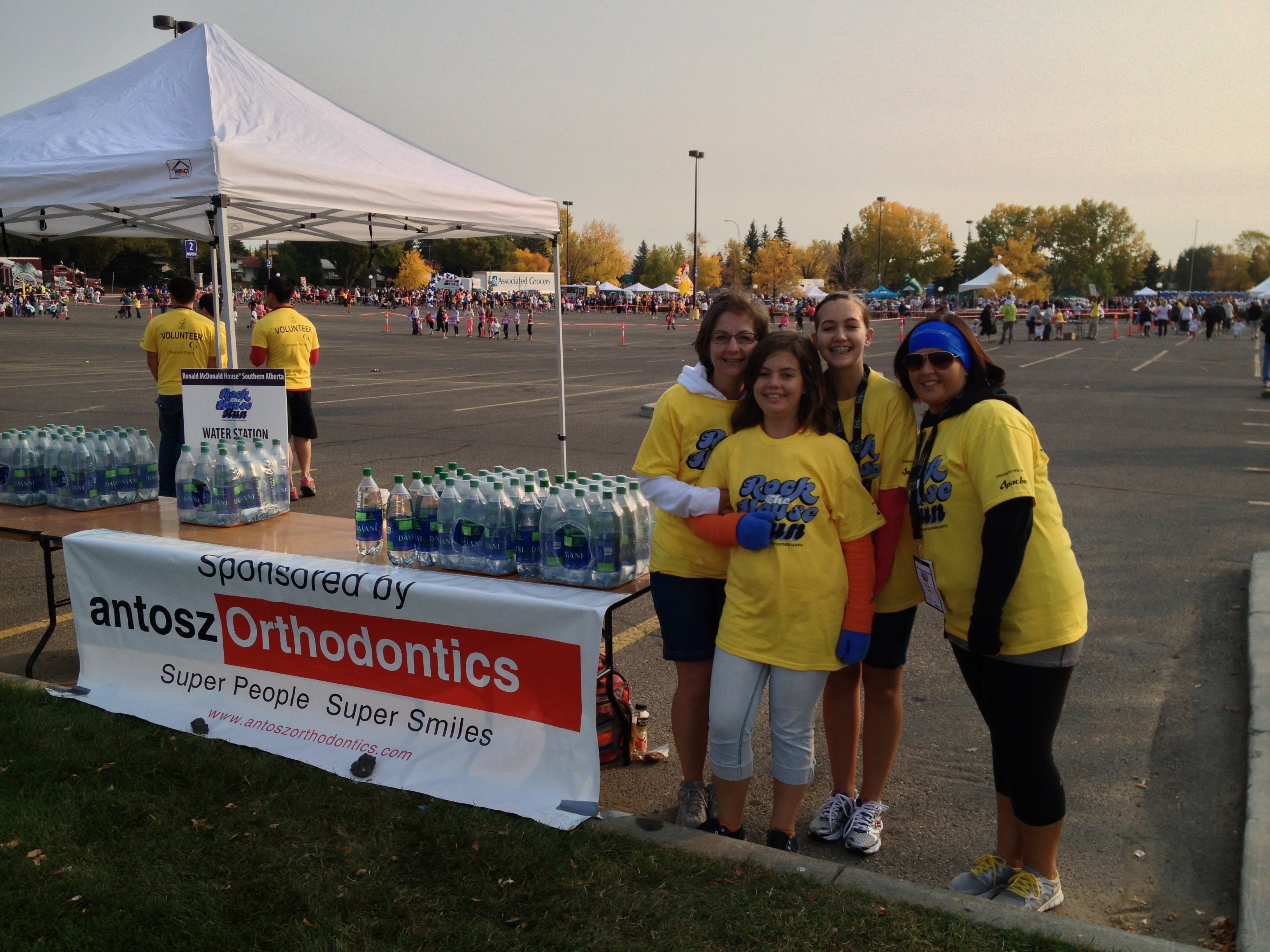 Robert: Trust is very important when choosing an orthodontist. How do you know who to trust? I think if your orthodontist takes the time and makes the effort to ensure you really understand what the problems and treatment are, then that is probably the person you can trust. It's also important to be patient! We know that orthodontics takes time and that it gets a little old after a while. However, small and minute changes can make the difference between a good orthodontic result and a great orthodontic result, which in turn, can have lasting effects on the overall health of the teeth over a lifetime. As healthcare professionals, Mark and I, as well as our colleagues, strive to give patients the best occlusion we can. It just happens to take a little bit of time to do so.

Mark: I'd also like to offer a word of advice for fellow dentists: make the time and effort to understand functional occlusion. Take the courses, make the investment, broaden your horizons. It will help your patients and your career. If you understand occlusion, you will keep yourself out of trouble. And if you get into trouble, understanding occlusion will almost always get you out of it.