Elaine Powell, Director of Regulatory Compliance, dentalcorp
---
In celebration of National Infection Control Week, I'd like to take this opportunity to reflect on just how far the world of dentistry has come in protecting the health and safety of our patients and team members.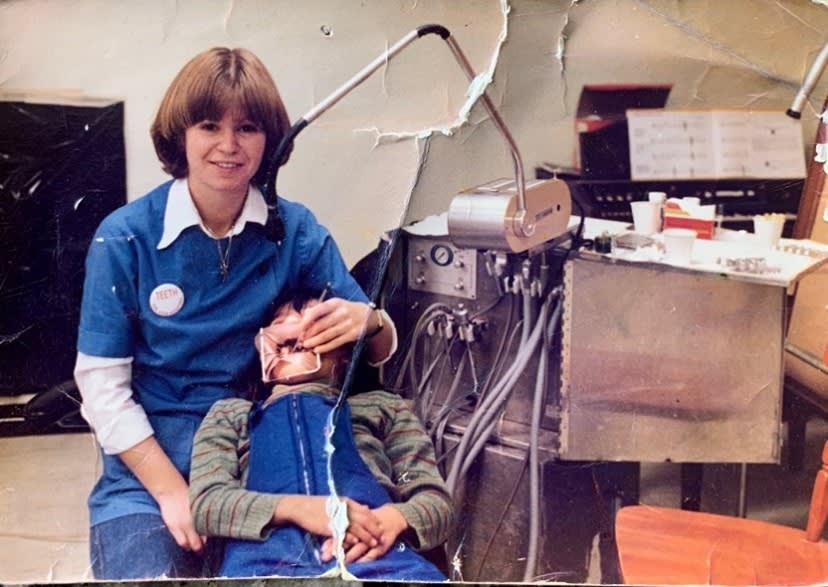 The photograph to the left taken in 1974 paints a picture of the substantial advancements made with respect to infection prevention and control (IPAC) in dentistry. This photograph was taken in a remote Canadian community at a time when we didn't have the same level of sophistication when it came to preventing infections and viral transmission. At the time, dental teams traveled to underserviced areas with stainless steel chests full of unwrapped surgical forceps ready for use in the next community. Flash sterilization was common, and we were lucky if we had a selection of single-use needles for anesthetic. Oral health care providers rarely wore personal protective equipment (PPE) and dental instruments were stored unpackaged in drawers after reprocessing.
Not long after this snapshot, IPAC guidelines were introduced by regulators in response to the public's increasing concern with the spread of HIV/AIDS, hepatitis, tuberculosis and other infectious diseases. At the time, these changes were quite disruptive, but in hindsight, these changes clearly marked an important advancement in the safety of dentistry. Dental educational institutions would eventually teach requirements on IPAC, including the correct use of PPE, and patients came to expect that a visit to the dental office would include the practitioner wearing, at the very least, gloves and masks.

Today we live amid a global pandemic, and once again we are witnessing a leap forward in the collective awareness around infection prevention and control in clinical environments. At the onset of the pandemic, dental practices were ordered to close, and emergency services were provided in a limited number of clinics. These abrupt regulatory changes together with myriad articles on airborne diseases and AGPs in dentistry further focused the public's attention on the safety of the dental office. This meant that the behaviour of dental team was under the microscope for a change.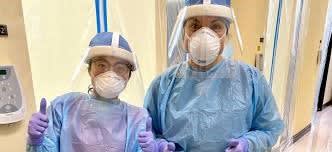 By now, every oral care practitioner should be acutely aware of the necessary changes made to traditional IPAC processes. All practices are expected to follow the latest protocols and procedures created by the Provincial Infectious Diseases Advisory Committees (PIDAC) and other regulatory Standards of Practice for Infection Prevention and Control.
Donning and doffing protocols must be reviewed and implemented, and team members should make decisions about what PPE to wear only after a screening process that includes an assessment of the patient and the treatment to be provided. Practice teams should be universally trained on IPAC protocols to ensure that everyone is consistently completing all the required steps, and in the right order. IPAC updates should be shared regularly with all team members, new measures discussed, and changes implemented as information becomes available from evidence-informed research and the latest scientific data.
The COVID-19 pandemic has raised a number of important considerations and concerns for dental practice owners in the future, including: 
The physical design of the clinic such as enclosed operatories, ventilation and number of air exchanges per hour
Negative or positive pressure in the operatories
Fit testing programs for those wearing filtering face masks (N95 respirator)
Automated systems that eliminate manual entries or manual collection of data for reprocessing
Mandatory daily screening of staff for signs and symptoms of the virus
Accurate record-keeping of all people who had direct contact with an employee or a patient who is suspected or positive for COVID-19
Dentists and dental hygienists may be allowed to administer the COVID-19 vaccine
New forms of patient communication, including TV screens showing conversations for those who cannot hear with excess PPE
Amid this global health pandemic, our commitment to infection prevention and control has never been of greater importance. Enhanced precautions mean enhanced costs, additional requirements for training, and more complexity. Change can be hard, but we can at least take comfort knowing that these changes are designed to make dentistry safer for our teams and patients alike.

dentalcorp has made an array of resources available on our website to help support our wider dental community in the fight against COVID-19, including Risk Management protocols, interviews with infectious disease and healthcare professionals, Human Resources reference materials, Patient Communication templates, and more.