For this month's Partner Spotlight, we caught up with Assiniboine Dental Group's three principal dentists – Drs. Scott Leckie, Dominika Jasiewicz-Bialy and Amarjit (Ammy) Rihal – to discuss their journey to partnership, what makes their practice so successful, and the importance of putting patients first.
---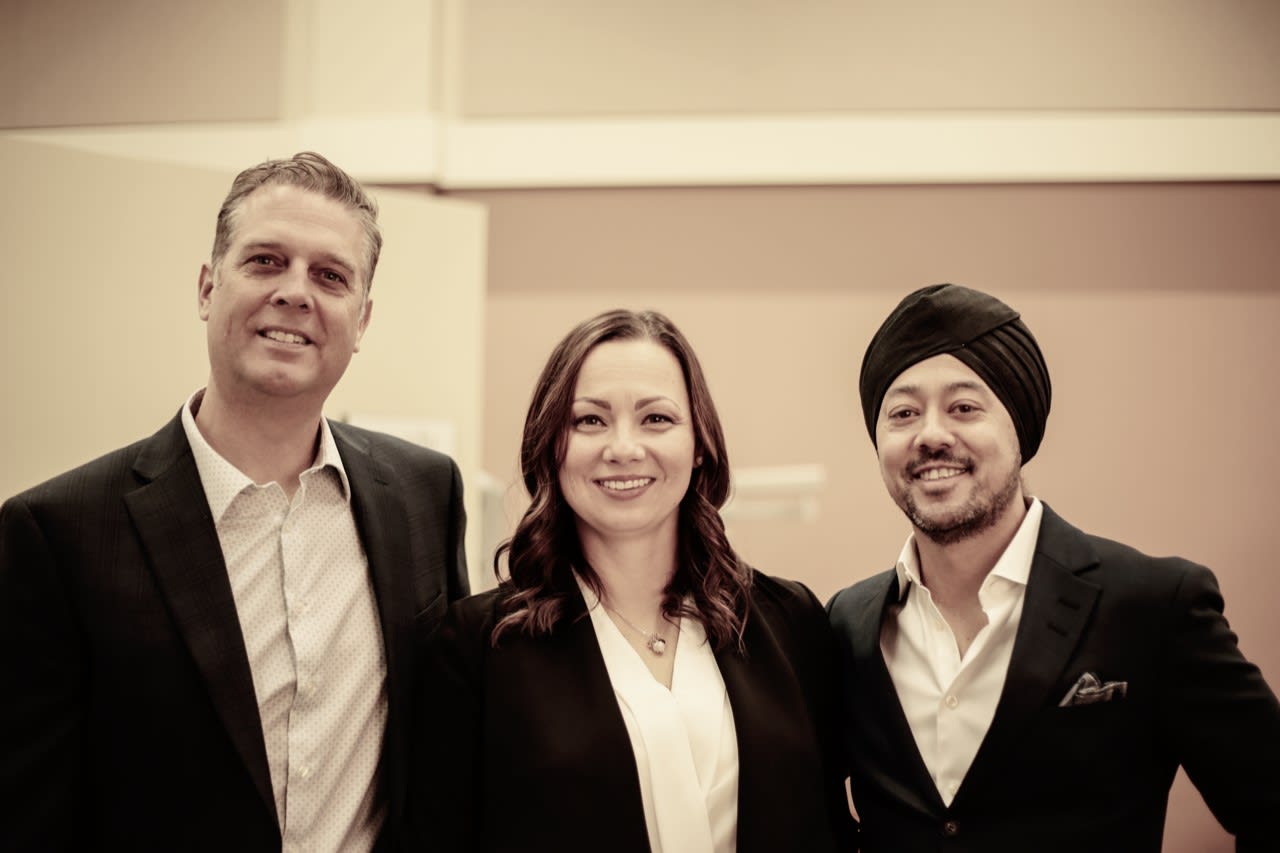 Established in 1966, Assiniboine Dental Group (ADG) has since grown into one of the largest dental practices in Western Canada, boasting over 20 general and specialized dentists and 70+ team members. ADG partners Scott, Ammy and Dominika collectively bring over 60 years of experience to the thriving Winnipeg practice.
How it all started
Scott's interest in dentistry stemmed from an early age, tracing back to discussions with a career counsellor in Grade 9. As he was preparing to graduate from dentistry at the University of Manitoba in 1990, he was approached by one of the founding partners of ADG, Dr. Ted Derrett, who asked him to join the practice. At that time, there were six partners and one part-time associate.
Raised in a family of medical doctors, a career in healthcare was an obvious choice for Ammy. In his final year studying dentistry in 1995, a few of his clinical instructors who were also partners at ADG asked him to come in for an interview. The meeting lasted five hours and he was offered an associateship position the next day.
Similarly, Dominika was curious about science growing up and found the field of healthcare particularly intriguing. Undergoing extensive dental and orthodontic treatments during her teenage years further ignited her fascination with dentistry. By the time she graduated from dental school in 2008, she knew she wanted to work in a group practice and have the opportunity to collaborate with other dentists daily. Like the others, she was hired at ADG as an associate soon after graduation.

Decades later, the partner trio is still passionate about their profession and making a difference in their patients' lives.

"Working in this field provides a strong sense of purpose and achievement as we get to help people and make a significant difference in their lives. It is inspiring to witness how much of a positive impact our treatment can have on patients," said Dominika.
"It is a humbling experience to look at the patients and families we have had the privilege to treat and see the influence that we've had on their lives and how they feel about their oral health," echoed Ammy.
ADG has a long-standing history of giving back to the community in which it serves. The practice proudly supports a number of Canadian charities at both the local and national level, including United Way, About Face, Folklorama, and True North Foundation.

"ADG has always strived to be a pillar in our community, encouraging all of our team members to get involved in organizations that support the community in which we practice. Giving back to others is one of the most fulfilling parts of the job," said Scott.

Partners in growth
In 2018, the partners decided to join dentalcorp. From conversations with dentalcorp's team, they discovered that ADG and the leading network shared core values and philosophies on patient care. After careful consideration, they agreed that dentalcorp was the right fit for their practice.
Of the partnership, Scott explained, "The journey to partner with dentalcorp evolved very quickly. We have always been mindful of the need for a long-term succession plan at ADG and wanted to ensure the group sustained itself while maintaining its guiding principles set out by the founding partners."
"We were excited to join the dentalcorp family. Being one of the largest practices in Canada, the merger appeared to create quite an exciting wave across the country," said Ammy. "The way we practice today is similar to how we practiced before joining, the difference being a greater support network behind us, helping us achieve our goals and allowing us to focus on the care we provide."
"We appreciate the partnership we have forged through working together towards the common goal of providing the best patient care possible. dentalcorp also values a dentist's clinical autonomy by providing support without influencing day-to-day clinical decisions, which is really important to us," added Dominika.

At the cutting-edge of care
For over 50 years, ADG has experienced sustained success as a leader in organized dentistry. To accommodate its rapid growth in 2009, the practice moved into its current sprawling location, a large portion of which was a former Safeway supermarket. The main floor spans over 11,500 square feet in size with an additional second floor at 2,000 square feet.
The partners ultimately attribute their mounting success to their continued commitment to innovation, excellence and forward-thinking.
"We have a long and steadfast history of being progressive and innovative in our industry. For example, in 1966, ADG started a hygiene program, which was well ahead of the time. We have continued to be a forward-thinking, cutting-edge practice, focusing on quality and integrity. Our size enables us to see our patients in a multi-disciplinary facility and offer specialized services," said Scott.

"We focus heavily on developing and investing in new technological advancements in dentistry, which allows us to provide state of the art treatment options for our patients. This commitment to excellence has been noticed, as satisfied patients and word-of-mouth referrals have been the backbone of our practice's growth," said Ammy.

The group further emphasizes the key role of continued learning in providing optimal patient care.
"We are always exploring new technologies and techniques to offer our patients, and continually strive to achieve a higher standard of excellence in care. Every day offers a unique experience and every patient, a new challenge. This requires us to analyze and adapt to ensure the best possible outcome," said Dominika.
Ammy added, "There is always something new to learn, constant opportunities for self-improvement and many ways to be artistic and innovative."
A team approach

Despite being run by multiple partners, the ADG team works in harmony towards their shared goal of patient-centred care.

"We have a time-honoured philosophy at ADG of leaving your ego at the door. It is this mindset of valuing the team before the individual that we believe makes our practice run so well," said Scott.

"We are all working towards the same objective of putting patients' needs at the forefront. We also know that collaboration and teamwork are the best ways of achieving our common goals. As a reliable team, we trust and support one another. We bounce ideas off each other and share techniques to treat complicated situations or complex treatment requirements."

Dominika offers, "At the end of the day, our top priority is to ensure that our patients' needs are always at the top of everyone's minds."